Munich art trove: Chagall, Matisse among lost or 'looted' paintings
Published time: 12 Nov, 2013 13:43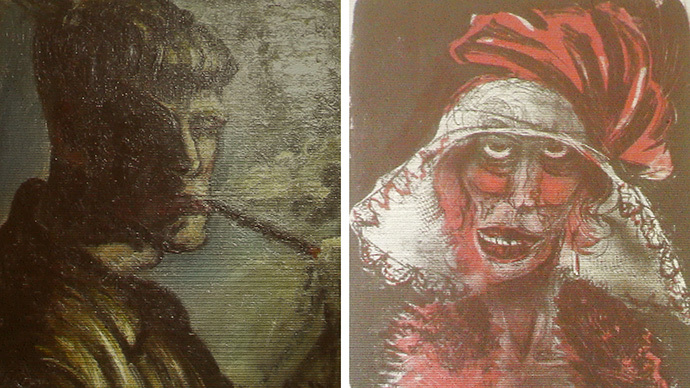 Germany has revealed the images of 25 lost masterpieces by Chagall, Matisse and Rodin among others, suspected of being looted by the Nazis from Jewish collectors. Some 1,400 works were found in a Munich flat owned by the son of a Nazi art dealer. 
The German government said in a written statement that up to 590 of the pieces could have been stolen by the Nazis between 1933 and 1945. Art was either looted or bought from Jewish collectors who were forced to sell for a pittance during the Third Reich.

Angela Merkel's spokesman noted that the government supported the demands by Jewish groups, insisting that the pieces found last year in a Munich flat belonging to Cornelius Gurlitt would be made public as soon as possible.
"We can well understand that especially Jewish organizations are asking many questions. They represent older people who were treated very badly," Steffen Seibert said on Monday.
Authorities have so far put 25 paintings online, saying that the list on the state-funded www.lostart.de website would be regularly updated. They said 970 artworks need to be checked by a team of experts to establish their origins.  
It's believed that some 380 art pieces could fall under the category of "degenerate art" that Hitler's regime believed to be a corrupt influence on the German people.

The new task force of experts, put together with the support of a research group on "degenerate art" at the Free University of Berlin, will work hand in hand with the ongoing legal probe by prosecutors in Augsburg. 
The German Foreign Minister recently warned that the country's reputation abroad would suffer if it didn't take a more proactive approach to publicly identify the artworks in the Munich trove.
"We should not underestimate the sensitivity of this issue around the world," Guido Westerwelle told DPA news agency. "Transparency is of the highest importance now."
Meanwhile, the legal status of the art trove found in Munich's Schwabing district in February 2012 isn't clear yet. Customs officials stumbled on the collection, estimated to be worth up to 1 billion euros ($1.34 billion), during a routine inspection.

A selection of paintings, sketches and sculptures hoarded by Hildebrand Gurlitt - a wartime art dealer, who Hitler put in charge of selling confiscated "degenerate art" - were found in the apartment of his 79-year-old son, Cornelius Gurlitt.

Herr Gurlitt's whereabouts are unknown; he is under investigation for tax evasion and concealment. Some legal experts say Gurlitt may get to keep the art, but others say Germany could nullify his ownership under the 1998 Washington Declaration, a set of principles for dealing with looted art.