Moscow will never see gay pride parades – Mayor Yury Luzhkov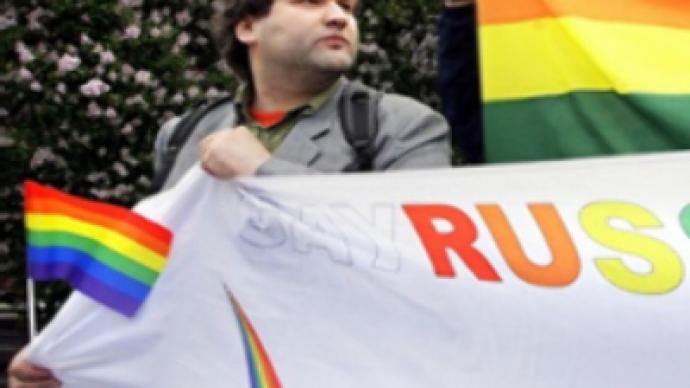 City authorities will continue to ban gay parades in the Russian capital, Moscow Mayor Yury Luzhkov declared on Thursday.
Speaking at the second International conference "HIV/AIDS in Developed Countries" in Moscow, the mayor said that authorities will continue their policy against homosexuals.
The Mayor of Moscow has repeatedly made offensive statements against sexual minorities. He called gay parades "weapons of mass destruction" and "Satanist actions". However all the homosexual community demanded was their rights recognized.
Allison Gill, head of the Moscow office of the international human rights organization Human Rights Watch supports gays. "Quality of democracy can be estimated by how the government and society treat sexual minorities. There should not be a tyranny of the majority. The minority also have their rights", Gill said.
"We banned and will ban propagation of sexual minorities' views as they can become one of the factors of distribution of HIV and AIDS. Some home-brewed democrats may consider that sexual minorities can be the main indicator and a symbol of democracy, but we will forbid further distribution of this idea", the mayor declared.
Luzhkov also condemned an advertising campaign for condoms. He believes that modern science has not proven that condoms can guarantee 100 % protection from AIDS. Companies and manufacturers use this false information to expand the commodity market, Luzhkov said. The Mayor also expressed a negative attitude toward safe sex which, in his opinion, only aggravates the problem of AIDS in the world.
Experts working on preventing the spread of HIV in Russia found Luzhkov's statements contradictory. "There can be no 100 percent guarantee of protection against infections, even when vaccination takes place", the head of the Federal Centre on Preventive Measures and Fight against AIDS Vadim Pokrovsky said. Pokrovsky believes Luzhkov' statements could push some unaware citizens to refuse to use condoms, causing an immediate and drastic increase in infection rates.
"Thanks to the educational work which has been carried out since the 1980s, less than 5 percent of Moscow homosexuals are HIV positive. Other western capitals with 20 percent of the homosexual population is infected, can only envy such an indicator," Pokrovsky said.
However, the 72-year-old mayor of Moscow is ready to defend his views against sexual minorities even under criticism and pressure from foreign liberals. "Of course we will be criticized by all democrats in the world, but each society has its own views on this social phenomenon", Luzhkov said.
The organizer of Moscow's gay parade, Nikolay Alekseev, declared on Thursday that "today's statements of the capital's Mayor show how such politicians lead our society to complete madness. While all developed democratic countries have recognized the rights of gays and lesbians for a more effective struggle against the diffusion of HIV-infection and other sexually transmitted diseases, the Moscow Mayor does the opposite". Nikolay Alekseev said, adding that "Luzhkov's statements are based on his personal prejudices and stereotypes, and do not in any way reflect recent scientific points of view."
Sexual minorities tried to hold their parade in 2006, 2007 and 2008, but each time city authorities refused to give the green light. Homosexuals once filed a suit against city authorities in one of the capital's courts. However, the court recognized the decision of the authorities to ban the parade as legal.
Then parade organizers addressed their claim against Russia to the European Court, asking for just over $U.S. 1,000,000 in compensation. There are already five complaints from the Russian gay community in the Strasbourg court waiting to be considered. Two of them concern the ban of public events in May, 2006 and May, 2007, and the other three concern bans on various gay-pride parades in 2007.
You can share this story on social media: