Clashes, arrests as over 30,000 students protest in Canada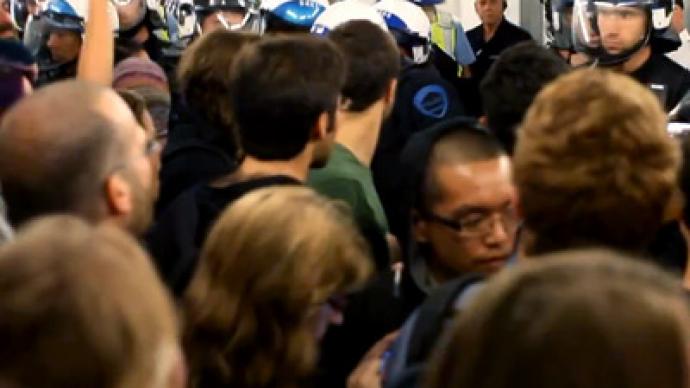 Eleven students have been arrested and are facing charges in Quebec following confrontations with police. The incident took place during an ongoing student-led strike against proposed tuition fee hikes, with over 31,000 participating in the protests.
The demonstrators are disobeying Quebec's back-to school law in Montreal, which demanded that students return to their universities on Monday despite their stated opposition to the proposed government tuition hikes. Over 31,000 students are striking – boycotting class, demonstrating, banging pots, disrupting classes and marching through university halls in masks, Canadian media reported. A total of 49 classes were forced to be suspended at the University of Montreal, due to a lack of attendance.
The strike intensified on Tuesday when crowds of students from University of Montreal started walking from classroom to classroom, clearing out classes in which students have voted to continue the boycott. The actions led to clashes with police, security, professors and other students who wished to attend class.By the end of the day, 11 students had been arrested by police, ten of whom are now facing charges. Seven students will be charged with allegedly assaulting police, two for obstruction of justice and one with disturbing the peace.
The University of Montreal's student federation FAÉCUM slammed the school's administration for calling in police to quell the protests. "The measures they took were totally disproportionate. There were nearly 50 cop cars for maybe 50 protesting students," FAÉCUM spokesperson Alexandre Ducharme said. In previous protests, several dozen students were arrested and then released without charges.
This week's scenes recalled the events that captured international attention this spring, when a number of student groups in Quebec called for a boycott of classes to protest proposed tuition hikes. Thousands of demonstrators took to the streets in protest, which resulted in dozens of arrests. Protesters even turned to stripping and violence, but were dispersed by riot police wielding teargas and pepper spray. Quebec's Bill 78, passed by the provincial government in an effort to end the student protests, put Canada on bad terms with the UN for restricting mass gatherings in the province, and for increasing fines for violations during mass events.
You can share this story on social media: