Metro cheers passengers with hand-made NY greetings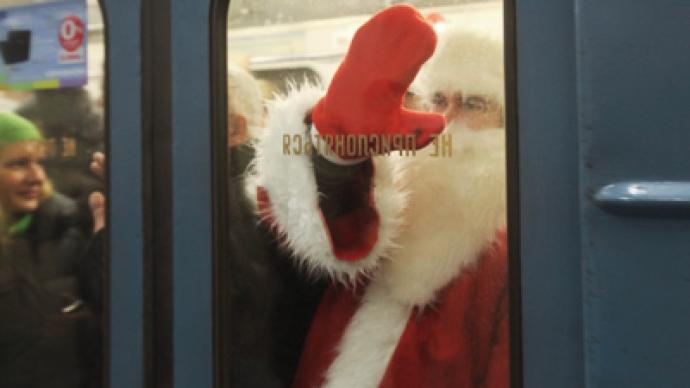 New Year spirit has filled the Moscow Metro, as its employees prepare to roll out a series of hand-written seasonal greetings decorating the winter issue of transport tickets.
The special two-ride "New Year tickets" will go on sale on December 30, raising spirits of Muscovites and tourists throughout the long winter holidays lasting from January 1-10.
The greetings were compiled personally by the Metro's train drivers, cashiers, senior inspectors, engineers, and repair workers. All of them wrote their holiday addresses by hand; then the writing was scanned and printed out. The Metro administration prepared a million of such "holiday tickets" – with 13 different greetings.
The Metro employees wished the passengers happy holidays, high spirits, good luck, and, of course, easy Metro traveling.
"Let the Metro traffic lights illuminate your way to health and happiness," wrote senior electrician Vladimir Morozov.
"I wish you all a peaceful sky above, kind smiles around, and a comfortable Metro climate!" added Metro electricity engineer Elena Fedorova.
The surprise, however, was a bit spoiled, as the hand-written greetings were leaked to the internet a bit earlier than planned. They were published in the LiveJournal community ru_metro – to the organizers' discontent and collectors' joy.
The Moscow Metro is one of the busiest in the world, with up to 10 million passengers using it every day. It is also renowned by its accuracy, high speed and relatively low ticket prices.
The capital's underground is dubbed the most beautiful travel system on the planet – most of its stations were constructed during the Soviet era and reflect the pompous and extravagant Stalinist architecture, with lavish decorations, high ceilings and grandiose chandeliers.
The city's authorities are now actively renovating the Metro. In as little as five years, City Hall plans to build a whopping 79 kilometers of new Metro lines, with 27 so-called "light rail" stations and another 16 standard ones.