Poland and Germany fall out over who was more antisemitic during WWII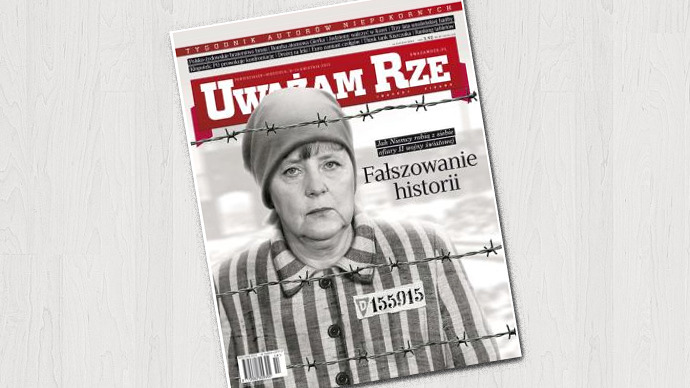 A cover of a Polish magazine depicting Angela Merkel as a Nazi concentration camp inmate alongside the headline 'Falsification of History: How The Germans Made Themselves The Victims of World War II', has stoked a spat between the two countries.
The lead story, published in Poland's best-selling weekly news magazine, the conservative Uwazam Rze, was provoked by a high-budget World War II miniseries called Our Mothers, Our Fathers filmed and broadcast last month by state-owned station ZDF.
Although the €14 million series claimed to put human drama ahead of politics, it has aroused anger in Poland for the portrayal of Polish resistance fighters as anti-Semites. In one scene a partisan says "we drown Jews like rats", and in another, upon intercepting a convoy of prisoners destined for Auschwitz, the underground fighters let it proceed, once they discover the prisoners are Jews.
"We are angry with this film's message," Taduesz Filipkowski, spokesman for the International Home Army Association, a veterans' organization, said when the first episode was broadcast.

"We believe it to be evil slander and an attempt to justify Nazi crimes by setting them against the alleged antisemitism that existed in Poland before the war. Our government should not ignore this attack on our reputation."
The authorities duly obliged.
"The image of Poland and the Polish resistance against the German occupiers as conveyed by this series is perceived by most Poles as extremely unjust and offensive," wrote Jerzy Marganski, Poland's ambassador to Germany.
Uwazam Rze claims that the series also tries to share the responsibility for antisemitism between all parties involved, while absolving many ordinary Germans of wartime atrocities, and equating their suffering with that of their victims. Symbolically, in the climax of the story, a German woman is executed, trying to save her Jewish lover, who survives.
So far, Germany has been diplomatic but firm, refusing to apologize for the series, by saying Our Mothers, Our Fathers is meant to start a "national conversation" on a subject that was taboo for decades.
Producer Nico Hofmann has said the depiction of Polish resistance fighters "is based on historically vetted material", noting that rights for the widely-watched series have been purchased by multiple broadcasters around the world.
But Polish media has not let the issue die down, and the tone has only become more confrontational.
Ironically, in the past week German Chancellor Angela Merkel has also been depicted as a Nazi with a Hitler mustache during a series of anti-austerity rallies in Greece and Cyprus.