Medvedev talks to Ahmadinejad prior to Middle East visit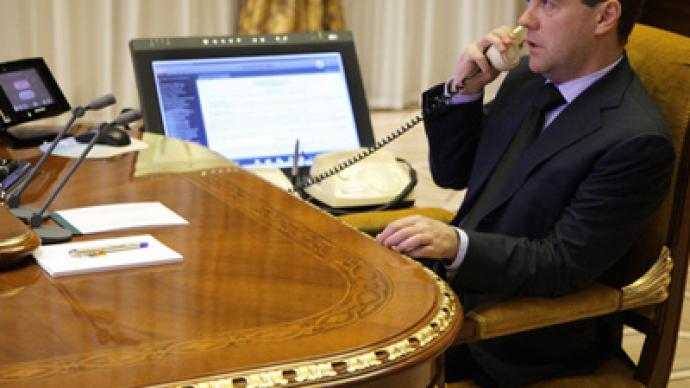 Russian President Dmitry Medvedev has spoken to his Iranian counterpart Mahmoud Ahmadinejad by phone, according to Medvedev's aide Sergey Prikhodko.
The two leaders agreed to continue discussions on Iran's nuclear program during the conversation. "During the talk, the presidents of the two countries praised the upcoming meeting between the Sextet and Iranian representatives due to take place in Istanbul," the press service said, as cited by the Itar-Tass.Also, Medvedev and Ahmadinejad "agreed to continue discussions on this issue within multifaceted formats", the press service added.The conversation took place on the eve of Dmitry Medvedev's visit to the Middle East, which is going to start with his visit to Palestinian territories on Tuesday, where he will meet with Palestinian leaders and visit a museum and park complex built by the Kremlin property and management department in the city of Jericho. On Tuesday evening, Medvedev will arrive in Jordan, where he is preparing to meet Jordan's King Abdullah II. Among other topics, the leaders are to concentrate on Russia's plans to build a nuclear power plant in Jordan. Medvedev was also going to visit Israel, however the visit was not prepared in time due to Israeli Foreign Ministry personnel being on strike.Meanwhile, Russia joined China, the EU, Turkey and Brazil in refusing to take a weekend tour of Iran's nuclear sites. Instead, the tour took place with a delegation of envoys from a number of member states of the International Atomic energy Agency (IAEA). The next meeting of the six party consultations on the Iranian nuclear program is to take place on January 21 and 22 in Istanbul, Turkey. Earlier, Iran noted that it is not going to discuss its activities in the nuclear sphere with other's countries, pointing out that such activities exist solely for peaceful purposes.
You can share this story on social media: