Iran says Israel orchestrated murder of nuclear physicist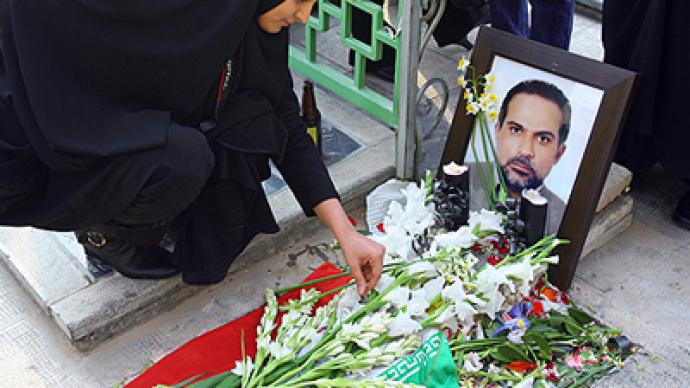 The Islamic Republic says it has uncovered a link between Israel's Mossad spy agency and the murder of an Iranian nuclear physicist.
Iran blames Mossad for the assassination of Dr. Masoud Ali Mohammadi, a physics professor from Tehran University, who was killed in a remote-controlled bomb attack as he was leaving his home for work in January 2010.Although Ali Mohammadi, 50, was not known to be assisting in Iran's nuclear work, Iranian media have presented his murder as an attempt by the United States and Israel to thwart the Islamic Republic's nuclear program."Following extensive security operations and monitoring spying activities of (the alleged spies) and under the auspices of God the Almighty, the terrorist behind the death (of Masoud Ali Mohammadi) was arrested and a network of spies and terrorists affiliated to the Zionist regime was dismantled," the Intelligence Ministry said in a statement.Meanwhile, Iranian TV broadcast an interview with "terrorist" Majid Jamali-Fash, who has allegedly confessed to the murder, saying he had received training on Israeli territory. "When we entered Tel Aviv airport I met two new people. They were two Israeli officers and were speaking Hebrew," Jamali-Fash said. "I went through some special training such as chase and run, gathering information in a special location, attaching bombs to cars."The suspect added that he had been shown a model of a building that was nearly identical to that of Dr. Ali Mohammadi's house.The Iranian Intelligence Ministry said its covert "counter-terrorism operation investigation" led authorities back to unidentified European cities, as well as to countries neighboring Iran, where Israeli intelligence agents are said to be orchestrating a campaign to kill Iranian nuclear scientists. The statement provided no details or proof of the assertions.Iranian Intelligence Minister Heidar Moslehi says the Islamic Republic has "emerged victorious" against the efforts of Israeli intelligence to infiltrate the country with its agents."One of our biggest achievements was penetration into the intelligence system of the culprits, which enabled us to recognize the nature of their measures," the Iranian minister said. "The spy and terror networks were working as a cell which means that they had no information about each other's activities and they did not know one another," Moslehi added. The Intelligence Minister added that all prominent scientists are vulnerable to [Israel's] terror tactics.Last January's assassination of Masoud Ali Mohammad was not to be the last attack on Iran's fledgling nuclear community. In November, two separate bomb attacks killed one nuclear scientist and wounded another in the capital Tehran. In addition to the targeting of academics, Iran's nuclear program reportedly suffered a cyber-attack from the highly complex Stuxnet computer worm, which nuclear experts say was possibly designed with the intent of sabotaging the nation's uranium enrichment program. Although the origin of the worm remains a mystery, many analysts point to state-sponsored source due to the extreme sophistication of the program, as well as its intended target. The US, Israel and other nations believe Iran is attempting to develop nuclear weapons under the guise of a civil atomic energy program. Iran denies the charges, saying it is developing nuclear power to diversify its energy resources.Iran is currently under four sets of UN sanctions over its refusal to stop enriching uranium. This month, Iranian officials will meet with the UN Security Council in Turkey to discuss ways of resolving the standoff.
Robert Bridge, RT