Megaupload mogul claims NZ police abuse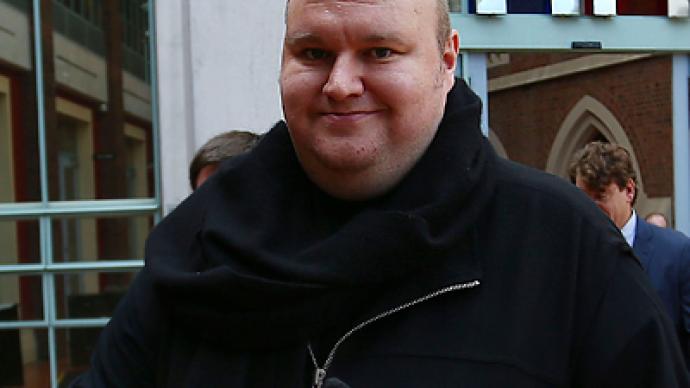 Internet giant Kim Dotcom, charged with masterminding the biggest copyright case in US history, has accused NZ police of beating him. During the police raid on his multi-million dollar mansion Dotcom alleges that officers kicked him to the ground.
At a court hearing in New Zealand the internet tycoon said that he was petrified during the police raid on his property in January. Amid banging and shouting he shut himself in one of the rooms where police subsequently found him.
"I had a punch to the face, boots kicking me down to the floor," said Dotcom, adding that he was shouting in pain for them to stop. "I told them there was no need for punching me or hurting me and please stop."
At the behest of America's FBI, the New Zealand authorities conducted a raid on Dotcom's mansion in January, confiscating computer equipment, luxury cars and artwork.
The judge on Dotcom's case has since ruled that the raid and the seizure of the tycoon's possessions were illegal under New Zealand law.
Dotcom argues that the raid was totally unnecessary, maintaining that he would have allowed the police entry if they had knocked on the door rather than knocked it down.
"If someone had knocked on our door and said we have a document here with charges I would have let them in because I had no expectation that anything like this could ever occur," Dotcom said.
The internet baron is currently fighting against extradition to the US where he is wanted for what American prosecutors have dubbed as a "Mega Conspiracy." They have pressed charges of copyright against his file-sharing website Megaupload for generating US$175 million in profit by sharing pirated film, music and book files. If convicted he could face a jail sentence of up to 20 years.
However, Dotcom's lawyers have argued that the site was merely offering online storage.
During the hearing the online entrepreneur said that everything that had been done to him so far was "unlawful." He stressed that life had not been the same since the police raid on his home on January 18.
"Our beautiful home was turned into a haunted house," Dotcom told the judge.
The US authorities filed for Dotcom's extradition to be tried in Virginia in March on charges of money laundering, internet piracy and breach of copyright.
"We don't have access to data that would allow us to prepare for the extradition hearing," Dotcom said to Judge Winklemann in New Zealand's High Court on Tuesday.
The German-born founder of Megaupload previously described the case against him as "insane" and opines that the charges are politically motivated. He maintains he did everything in his power to ensure that Megaupload complied with US law before it was shut down in January.
You can share this story on social media: