Potential Martians: Mars One selects 1,058 hopefuls among 200,000 applicants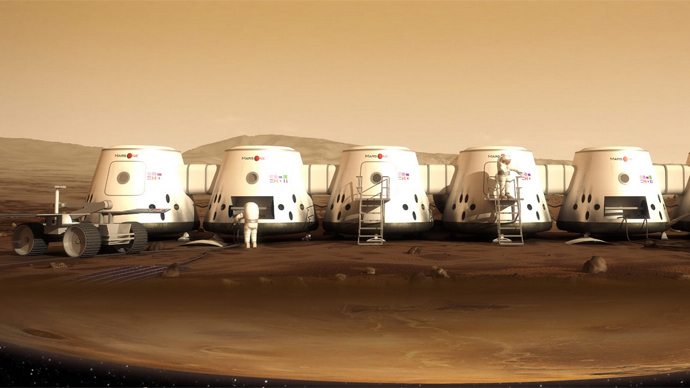 The Mars One project has announced the selection of 1,058 hopefuls from over 200,000 applicants to become potential "human ambassadors" on the Red Planet. Eventually, no more than 40 people will be selected to go Mars to never return.
"We're extremely appreciative and impressed with the sheer number of people who submitted their applications," Mars One Co-Founder and CEO Bas Lansdorp said, putting an end to the second round of the application process.
"However, the challenge with 200,000 applicants is separating those who we feel are physically and mentally adept to become human ambassadors on Mars from those who are obviously taking the mission much less seriously."
According to The Popular science magazine report, there are 55 per cent male and 45 per cent female among 1,058 chosen. Some 63 per cent of them hold a bachelor's degree and 3 percent hold a medical degree.
The majority of the applicants are aged between 26 and 55 - 65 per cent of all selected hopefuls- and 2 per cent are older than 55.
Those who did not receive emails, notifying of their application status, should not become despondent. There is a chance they can reapply later. But the date has not been set yet.
"US astronaut Clayton Anderson was rejected by NASA for its astronaut training program 15 times, yet in 2007 he boarded the Space Shuttle Atlantis for a trip to the International Space Station. He proved anything can happen and the door is never completely closed," Lansdorp recalled.
The first round of the Mars One Astronaut Selection Program saw applications from 202,586 people from around the world. Initially Lansdorp expected one million applications.
The whole Selection Program includes four rounds and is planned to last till 2015. During this time, the applicant pool will be narrowed to dozens of people - six to ten teams of four individuals will be selected for seven years of full-time training before heading to Mars.
"The next several selection phases in 2014 and 2015 will include rigorous simulations, many in team settings, with focus on testing the physical and emotional capabilities of our remaining candidates," Dr. Norbert Kraft, Chief Medical Officer for Mars One said.
But the details of the further selection phases have not been agreed yet as negotiations for the rights to broadcast the process are still ongoing. Lansdorp said the next phase of the Mars One project should be televised starting in 2014.
"We fully anticipate our remaining candidates to become celebrities in their towns, cities, and in many cases, countries. It's about to get very interesting," he said.
Mars One, a Dutch not-for-profit organization, is relying on donations, which it directs to the human mission to Mars. It is currently trying to raise money to send a satellite and lander to Mars in 2018, which will allow them to live-stream events straight from the red planet.
On December, Mars One contracted Lockheed Martin and Surrey Satellite Technology Ltd. (SSTL) to develop mission concept studies.
Before people will be able to colonize Mars there is a demonstration mission planned for 2018. It will provide proof of concept for some of the technologies that are important for a permanent human settlement on Mars.
You can share this story on social media: