French far-right leader opposes 'EU demonization of Russia'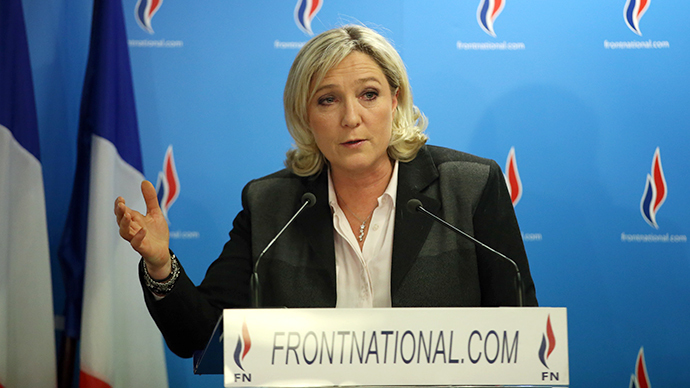 French far-right leader Marine le Pen has spoken out in support of Russia and expressed her dismay at Paris's refusal to allow MPs to meet State Duma speaker Sergey Naryshkin, simply because of his inclusion in the US sanctions list.
Speaking at a meeting with Naryshkin in Moscow, the leader of the National Front party, a member of the European parliament, also believes that Russia is being unfairly "demonized" and that the campaign against the Russian political administration has been cooked up at the highest levels of the EU leadership, with the implicit support of the United States.
"I am surprised a Cold War on Russia has been declared in the European Union," she told colleagues at the meeting. "It's not in line with traditional, friendly relations or with the economic interests of our country or EU countries and harms future relations," she was cited by Interfax as saying.
"Even the threat of sanctions is a counterproductive measure. Decisions can always be reached at the negotiating table – and not by blocking talks."
"Bans tend to only radicalize positions, and all this at a time when we are all looking for a diplomatic solution to the conflict," Le Pen said.
She said she believes that the only viable way out of the deadlock would be a policy of Ukrainian federalization. She sees the prospect of holding referendums and federalization as a "wise and carefully weighed" decision.
Another key point for the French party leader has to do with getting all the regional leaders together to discuss the proposals; as such an issue can only be discussed jointly, according to le Pen.
She is also convinced that people have the right to "decide their own fate," but only when the conditions for doing so are implemented. One such condition has to do with not allowing extremism to flourish, which has the power to derail negotiations between bickering powers.
Meanwhile, the city of Donetsk has since March been seeing people come out en masse in support of a federalized Ukraine. Similar large crowds were seen in Kharkov and Lugansk, with the demonstrations showing no signs of stopping, after Kiev's recent decision by the coup-appointed authorities to strip the Russian language of its special official status in Ukraine and remove a number of pro-Russian officials from government in the areas.
Naryshkin, for his part, is of the opinion that friendly relations between France and Russia must be preserved for the sake of their peoples. The Duma speaker said that "Russian-French relations are undergoing a difficult period, especially with Russophobic and anti-Russian sentiments sprouting up in Western Europe."
He also believes France remains one of Russia's key partners in Europe.
You can share this story on social media: