'France is plagued by bankruptcy and mass immigration' - Marine Le Pen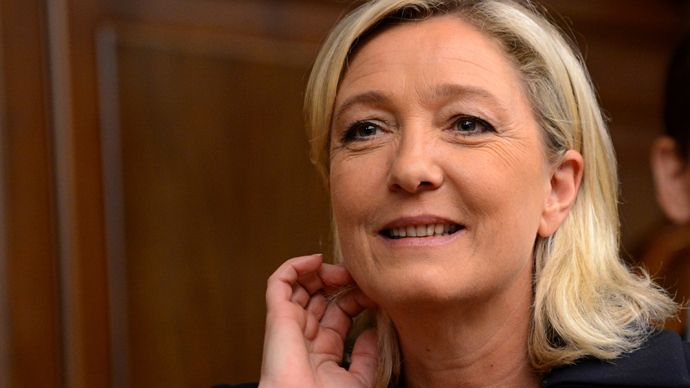 French far-right leader Marine Le Pen believes her National Front party is going to come to power later in the decade and vows to overcome the burden of EU unity. Immigration, economic problems, the military, and gay rights all shape her agenda.
"We are hunted down in all circumstances because we express an opinion that is different from the one-way track of thinking developed by the European Union," Le Pen said on RT's SophieCo, believing the institution itself to be deeply undemocratic, and noting a surge in the popularity of patriotic parties across the disillusioned continent.

Le Pen heads up the National Front, France's third-largest party, and has been making concerted efforts to grab France back from European unity which she argued has not done the country any favors.

'Undemocratic EU'

"All peoples are starting to reject the European Union, which is a deeply undemocratic system that has failed," she said. "We submit to the demands of Germany," she stated, shedding light on her trajectory as party leader.

"I'm not here as a bystander, I'm here to come into power and apply the ideas that are mine and that I can see are already being applied in other countries around the world," she said.  

Le Pen was adamant that it wasn't necessary to stay committed to either the Euro or Europe. "Defending the European Union and the Euro, the single currency that was imposed on us, almost feels like defending a religion. Meaning there's no exchange of arguments, and to be against the Euro is a sort of blasphemy. So I'm asking for a referendum," she said, lauding the French national interest as her top priority.

"If I hold a referendum and the people don't follow me, then of course I will submit to the people's decision, but I would try to defend France's interests within the EU," she added.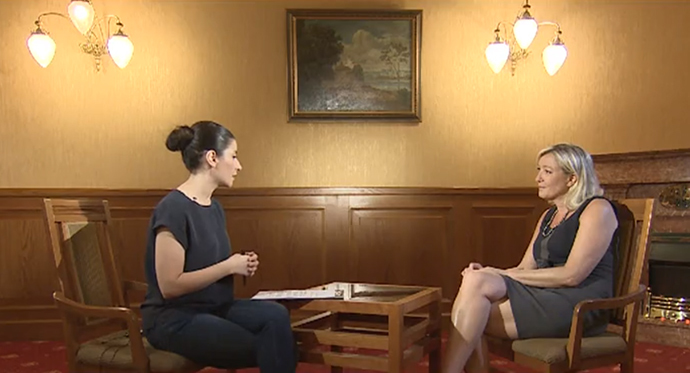 Le Pen believes that a number of the National Front predictions have come true, and a lot of French people have been beginning to recognize the party's accuracy on a wealth of issues. Of particular note to Le Pen was their anticipation of risks with immigration, and on the economic model.

She said the 'ultra-liberal model'  had been "imported from and imposed by the United States…which destroys economies and denies the people the riches that they themselves have created, and denies nations their sovereignty," firmly believing it is not in France's interests to pursue it.

"Things are getting worse and worse, and these two movements managed to turn one of the world's richest countries, France, into a bankrupt country with a rocketing unemployment rate, with poverty that continues to rise, with a real feeling of despair, and with a culture that is collapsing," she said.

'Freedom for a people comes from control over its borders'

Le Pen proposed tighter border controls on the country, which she described as "bankrupt" and "with a rocketing unemployment rate" – something she has partially ascribed to immigration risks and an economic model imported from the United States. Le Pen said that border controls were important not just in terms of human traffic, but in terms of capital flow and products too.

However, the human element retains special importance for Le Pen. She believes that stricter measures need to be taken to ensure France's success as a nation as it strikes a balance between manual and intellectual work.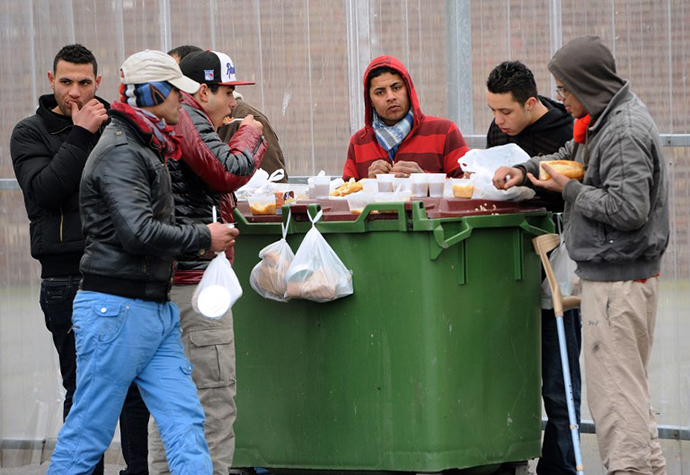 She says some deterrents are in order  so that from the moment immigrants have no further interest in coming to France, they'll stop.

"Today there are even illegal immigrants who benefit from larger social aid that some French citizens can't obtain," she pointed out.

Her immigration proposals and ideas on religion, culture and customs have seen her branded racist by critics.
'When in France, live like the French'

"I'm being hunted down for saying I think it's not normal that prayers should be allowed to take place right in the middle of the street, blocking traffic… it was a territorial occupation that is unacceptable," she said. "Instead of telling them 'when in Rome, do as the Romans do 'our government has told them 'stay as you are, it's your right.'"

Le Pen has outlined a system she names the "national priority policy," which will give preferential treatment to French nationals who possess the same skill to housing and job placements. "This is what I call a small deterrent" she commented, believing more stringent controls to be of economic benefit to French nationals.

'Austerity measures are a remedy that actually kills the patient'

However austerity measures being imposed by Europe are also having a detrimental impact on France's economy, Le Pen said, calling them "a remedy that actually kills the patient." Raising taxes and lowering earnings does nothing but slow down the economy, according to her. "More taxes constrict the economy and so there is less development," she said, mentioning that their imposition results in a vicious cycle. 
'Sexuality belongs in the sphere of intimacy'

The economic model 'imported' from the USA has been accompanied by gender theory and the introduction of books such as "Dad wears a dress" – a move Le Pen believes should be backtracked upon. "People are free to do what they want morally as long as it doesn't contradict the law. But to publicize it in schools, as is the case in France?" she questioned.

"Let us review everything that pertains to the freedom of morals, sexuality and therefore the private life. It's none of the public's concern." She mentioned that she worked alongside several gay politicians who kept their private lives out of politics.

'French leaders are under the influence of Qatar and Saudi Arabia'
Le Pen went on to compare French intervention into the affairs of Mali, Libya and Syria, unconvinced that there wasn't some inherent contradiction in the action.

"What is incoherent in the behavior of French leaders," said Le Pen, "is that they fight the Islamists in Mali, but support them in Libya, and in Syria!"

The causes of the seemingly contradictory interventions run much deeper than France, she argued. "I think that French leaders are under the influence of Qatar and Saudi Arabia, who are pulling the strings far behind the scenes, and who are providing weapons and assisting Islamic fundamentalists across the world."

"We must denounce that, which is what I'm trying to do in my own country," she said, denouncing the forms of totalitarianism that are rampant in the 21st century. "There's Islamism and globalism," she said

"That's the totalitarianism of religion on one hand, and of trade on the other. And so I fight it. But I fight it everywhere. In Mali, in Libya, in Syria," Le Pen stated.

You can share this story on social media: