Singing, dancing, mourning: People gather to celebrate Mandela's life (PHOTOS)
Published time: 6 Dec, 2013 06:08
Edited time: 6 Dec, 2013 08:02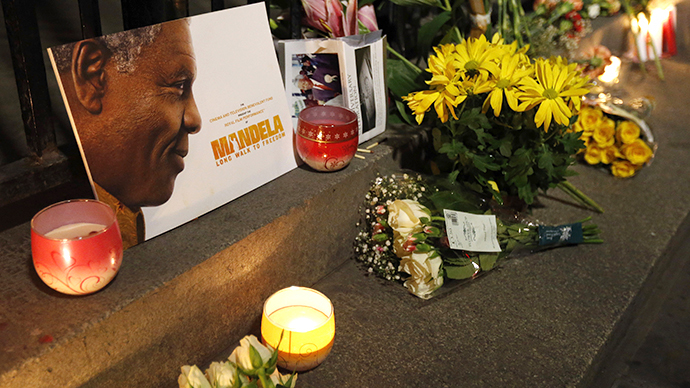 Hundreds of locals gather at Nelson Mandela's heartland – his home – to celebrate a person who has forever changed their lives by sacrificing his own freedom and becoming a symbol for racial struggle in South Africa and the world over.
Late on Thursday, the capital Pretoria stood still. Music was turned off and an atmosphere of quiet reverence for the iconic figure of Mandela took hold as people everywhere, in bars, clubs and streets listened to South Africa's President Jacob Zuma make the announcement.
The leader announced that, after years of struggling with poor health, Nelson Mandela passed away at 8:50pm (18:50GMT) surrounded by family.
"He is now resting. He is now at peace," Zuma said late Thursday. "Our nation has lost its greatest son. Our people have lost a father."
As the news of Mandela's passing circulated via social media, people began to gather at the Johannesburg residence.
#Mandela The scene outside Madiba's home this morning where a makeshift memorial has formed pic.twitter.com/yRFVhnAUIP

— Mandy Wiener (@MandyWiener) December 6, 2013
Mandela's house, now a museum, was packed with people of different races and cultures. Old and young flocked to the street following the announcement of Nelson Mandela's death. A vigil was formed with people waving flags and shouting "viva Mandela, long live Madiba." Mandiba is Mandela's Xhosa clan name.
Police were also present at the crowded but peaceful scene as South Africans laid candles, flowers and messages at the gate of the house.
Candles being lite and placed on the fence #Mandelapic.twitter.com/6mK93OqyUE

— RadicalMedia_ (@UnToldCarlisle) December 6, 2013
Placing flowers in the barbed wire fence joining us from paying respect to #Mandelapic.twitter.com/yvAH1tCQTj

— RadicalMedia_ (@UnToldCarlisle) December 6, 2013
The mood was said to be lively rather than somber, while the crowd of hundreds sang, swayed, and even blew vuvuzelas, the plastic horn which gained international notoriety during the country's 2011 World Cup.
"I knew this day would come, but what can I say, our beloved Madiba fought a good fight, now it's time to rest. My heart is full of joy and sadness at the same time. He left a great legacy. I don't think anyone will ever be able to fill his shoes," Ashleigh Williams, present at the vigil told AFP.
Dressed in pajamas, or wrapped in blankets at least 500 people lit candles as they sang the South African national anthem.
"Let's unite and do it for Madiba," a woman told a group of strangers, Times Live reports. "Let's stand together."
.@AP photo: South Africans hold a vigil for Nelson #Mandela outside his home in Johannesburg, South Africa pic.twitter.com/XWkMHJZFpO

— NewsBreaker (@NewsBreaker) December 5, 2013
One of the chants heard had the following words, "this Nelson Mandela, if you haven't seen him, you don't know the man."
Dominic Sadie, 19, told South African Press Association "if it wasn't for Mandela, I wouldn't be chilling with my black friends. I love him."
A mother also present at the vigil brought her two daughters, breaking down and crying at the scene.
"I am glad that he is in a better place but I hope South Africans will be able to deal with his death," she told SAPA.
Khadijah Kathrada, a young woman outside the home, wept while holding her infant son.
"Heartbroken. Sad," Kathrada told the Christian Science Monitor. "Like something big in my life has been taken away. Like I lost my father."
"We are here because of him. He is the reason for our freedom," she added.
Crowds gathered elsewhere in the country, including Soweto, which lies southwest of Johannesburg. There people draped themselves in ANC and South African flags to pay homage to Mandela's life.
Similar scenes were observed across the country as many took to the streets to both celebrate and mourn the ending of the great man's life.
Sindisa Makana, 21, a petrol station worker in Cape Town, told Reuters - "the legend is gone," while in Johanesburg, local resident Jack van der Merwe was saying that Mandela "is in a better place, but I really hope South Africa realizes what he wanted us to be... we are not even half-way to what he wanted us to be."
And words of praise and deep respect were echoed by Africa's other icons, like Archbishop Desmond Tutu of Cape Town, who is another veteran leader of the struggle against the apartheid. He said that "to suggest that South Africa might go up in flames - as some have predicted - is to discredit South Africans and Madiba's legacy."
Cartoonist @rodemmerson's #Mandela tribute: http://t.co/HmfzFBRrXqpic.twitter.com/XPUAV0fTRZ

— nzherald (@nzherald) December 6, 2013