Resident fury as UK firm begins shale gas test drilling in Greater Manchester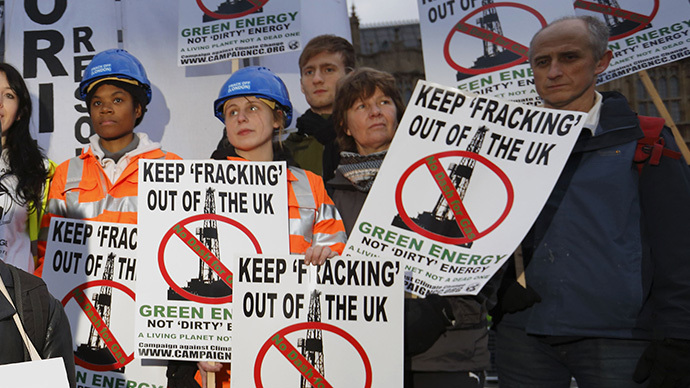 A British energy firm is pushing ahead with test drilling in Greater Manchester, paving the way for fracking. Residents and activists have gathered to try and block the action that they say threatens their communities and "backs them into a corner."
Energy firm IGas has confirmed it will carry out drilling tests across the North West of England in search of large shale gas and oil deposits. The British Geological Survey estimates that the region may hold up to 1,300 trillion cubic feet of shale gas which could meet the UK's energy demands for the next six years.

Fracking accesses hidden stores of gas by pumping water and chemicals at high pressure thousands of meters under the Earth's surface, effectively forcing gas out of the rock. Environmental groups maintain the process can cause small earthquakes, water contamination and pollution.
anti fracking protestor being arrested at Barton Moss Manchester #capitalreportshttp://t.co/JpciwZiMFV

— Claire Hannah (@Claire_journo) November 27, 2013

Residents of Greater Manchester are dead set against the exploitation of the natural resources in the area and have resolved to fight IGas. Last week saw campaigners and residents block roads in Salford, Greater Manchester, trying to stop IGas trucks from delivering more equipment to their test rigs. Police arrested four people in connection with the protests.

"We will oppose every single one of these test wells – this is the industrialization of our region's countryside and we will not let it happen," Rachel Thompson, from Frack Free Greater Manchester, told Manchester Evening News.

IGas maintains that it has "no plans" for fracking, but Thompson argues that IGas has not made this investment for nothing.

"IGas may say they do not have permission yet for fracking, but what is the point of spending all this money drilling into the shale then not fracking?"

If significant deposits of shale gas are found in the area IGas will have to file for additional planning permission to carry out widespread drilling. In addition, they will also be required to apply for environmental reports and organize community consultations to assess the overall impact of fracking in Greater Manchester.
"We do have plans to develop other [test wells] in Greater Manchester over the coming year," IGas chief executive Andrew Austin told Manchester Evening News.

"There is no background of fracking affecting house prices or subsidence. There is also no history of aquifers being polluted and the well is protected by steel and concrete barriers," said Austin.

'Earthquakes related to injection wells'

The United Nations Environment Program has said that "fracking may result in unavoidable environmental impacts, even if [unconventional gas] is extracted properly." Over the last three weeks 16 earthquakes have been recorded in Texas and there has been widespread speculation that exploitation of shale gas in the region was to blame.
"I'd say it certainly looks very possible that the earthquakes are related to injection wells," said Cliff Frolich, earthquake researcher at the University of Texas, in an interview with KHOU television.

"When they frack, they inject all that water and chemicals into the ground, then they pump it back up and separate the gas from the water, then they have to dispose of that water 13,000 feet down,"Keith Krayer, a local resident who felt the effects of the quake, told RT.

Moreover, the British Geological Survey recorded two minor quakes, measuring 2.3 and 1.5 on the Richter scale, in Blackpool on April 1 and May 27 of 2011. A UK government survey following the quakes revealed they had been triggered by "hydraulic fracture treatments" carried out by fracking company Cuadrilla.

UK Prime Minister David Cameron has championed fracking as the answer the Briton's rocketing energy prices. Cameron has appealed to the UK public to "get behind" fracking because it will create thousands of jobs and reduce energy prices.
Love this from #Manchester ...the 'Force from the North' is ready to get active ;) #tentsready#fracking#lancashirepic.twitter.com/eeUQzMuatO

— Tina Louise ☮ (@tinalouiseUK) October 20, 2013
You can share this story on social media: