Mali malaise: Third of population starving, peace fragile as presidential election nears
Mali has lifted the state of emergency to allow for campaigning ahead of presidential election in several weeks. The situation in the war-ravaged country however remains tense, with a third of the population starving, mostly in the still-dangerous north.
With Islamic extremists having been defeated in Mali, the country's population might now be in the middle of an even tougher battle for survival, with about a third of Malians living in extreme poverty, having virtually no access to basics like food and water.

One hundred and ten children die in Mali every day, a third of them of malnutrition, according to the UN World Food Program (WFP) data. Around a third of the country's population of 15-million is in need of food aid. Nearly 1.4 million require immediate food assistance in the north, which was mostly affected by the military conflict between government troops and Tuareg insurgents, which prompted an intervention by France in January.

Since the beginning of July, the French troops have completely given way to UN peacekeeping mission – MINUSMA, which is eventually going to grow, becoming the third-largest peacekeeping mission in Africa, consisting of 12,600 personnel. For now, it's still struggling to provide fully safe access to the north of the country.  

"Humanitarian access in the north remains unpredictable," says Alex Brecher-Doliver, spokesperson for the WFP.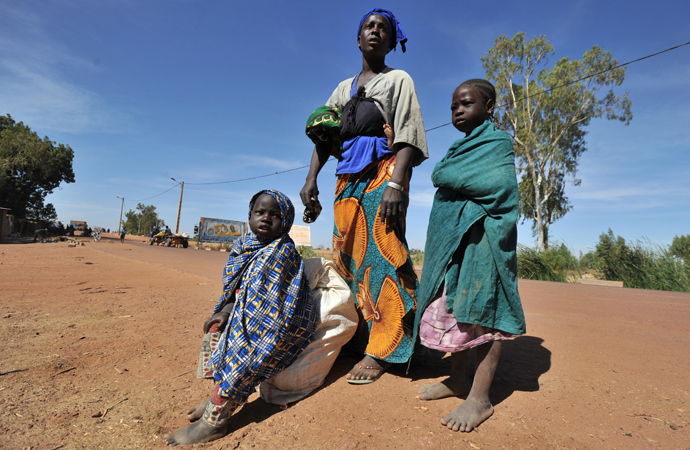 RT's Maria Finoshina has become witness to the dire conditions residents of Bamako, the capital's, suburbs find themselves in, with people having to live in houses built by themselves from hand-made mud bricks. These homes often lack basic amenities like electricity or running water.

"It's very difficult to get well here. There is no running water. We have to buy it. It's expensive. I have many children - I don't have money enough to feed them properly or to send them to school. If only they work - but to get a job you have to give a bribe - and I don't have money for that either," Aminata Sangare, a resident of Koulouba village complains.

Many Malians are particularly bitter, realizing they have to live hand-to-mouth – in a country which could and should be very rich. Mali is full of diverse natural resources with mining forming a significant percentage of the country's GDP.

Just one example: Mali has tripled its gold exports over the last decade and announced it expects to double annual gold output over the next five years to 100 tons.

"There are many mineral deposits, but we don't see this richness, the elite - maybe they feel [it]. Corruption is terrible - and revenue distribution is lame - who gets the benefit? Certainly not ordinary people," Diallo Boubakar, a Malian resident, voices popular feeling.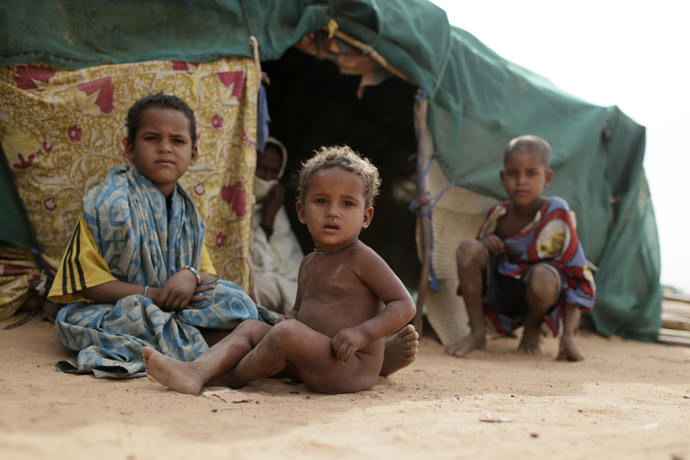 The official government standpoint is that Mali can't do without foreign investment, which it is vigorously trying to attract, with parliament even adopting legislation to accommodate the needs of foreign investors.

"We work with many countries - South Africa, Canada, China - we welcome them all," Lassana Guindo, president of the national direction of geology and mines tells RT.

But many doubt that foreign money will go to improving people's living standards. David Sadeghi Jrah, journalist from Gao Mali, believes resources may even do harm.

He's among those who claim the presence of uranium - with deposits in the North estimated to be thousands of tons - is what's really behind the recent French intervention in its former colony.

"They came here to protect us from terrorists - but also to protect themselves from risks of losing such a valuable resource," Jrah says.

Apart from uranium, there are diamonds, oil, copper, iron - which are all just waiting to be extracted - and millions of Malians, waiting to find out if their country's hidden treasures will ever translate into a better life for them. 
Poverty - major reason for Islamist rise
"Traveling towards the north we met no one who sympathizes with the insurgents and their extreme religious views," RT's Maria Finoshina describes her experience in Mali.

However, she adds that when Islamist extremists took hold of the north, a significant number of Malians either joined them or helped them. Poverty was one of the reasons, as insurgents actually offered money to their potential brothers-in-arms.  

"Now many people [who joined the Islamists] understand that they were mistaken and today they join the Malian army to fight [against terrorism]," says Gao's governor, General Mamadou Adama Diallo.

However, poverty still contributes to volatility in the region, making the destitute population potentially easy prey for the Islamists.

You can share this story on social media: