Mali crisis: French withdraw troops amid fears of prolonged war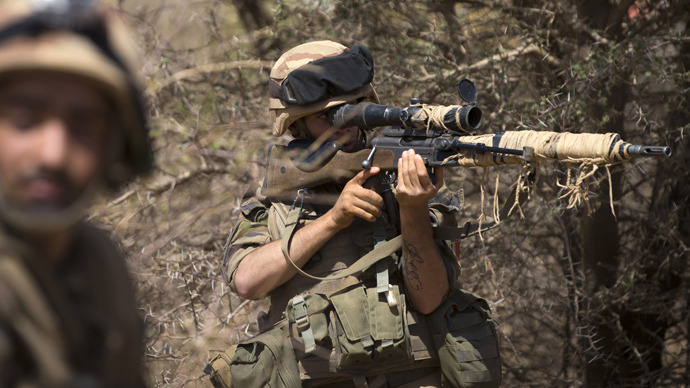 France has withdrawn its first batch of 100 troops out of the 4,000 deployed in Mali as it prepares to hand over operations to a UN peacekeeping force, with 1,000 French troops to remain on the ground by the end of the year.
However, fears are mounting that Mali will become a drawn-out war, spilling into other regions and fueling terrorism.
France justified its January intervention into Mali as a necessary battle to stem the advance of Al-Qaeda-linked militants who had seized northern Mali, and threatened to gain control over the capital Bamako.
Months later, the French succeeded in driving out Islamist insurgents from northern Mali, with some retreating to desert hideouts in the vast area, which increased fears that the conflict might turn into a long war and spill over into other African regions. French troops are still battling insurgents in Gao, as well as in the historic desert city of Timbuktu.
Risk of spillover 
The plan to keep 1,000 troops as part of a future UN peacekeeping mission stands in stark contrast to what French Foreign Minister Laurent Fabius said in January when he was questioned on the extent of the military operation in Mali. "Regarding France's direct involvement, it is only a matter of weeks. Later on, we can come as back-up, but we have no intention of staying forever," Fabius added.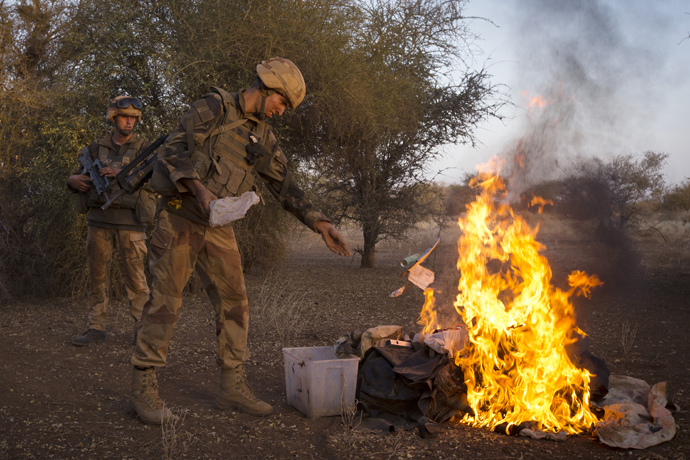 However, a complete French withdrawal from Mali is now reportedly off the table.
UN Secretary-General Ban Ki-moon has warned that the Mali conflict risks spilling over into the disputed Western Sahara territory. "Possible armed infiltrations, gaps in regional security coordination and resource shortages for effective border controls expose military observers to risk," Reuters quoted Ban as saying in his report to the 15-nation Security Council during meetings with UN Mission for the Referendum in Western Sahara (MINURSO).
Last week, Ban called for the deployment of 11,200 troops and 1,440 police as part of the UN peacekeeping mission after France withdraws, Reuters reported. The UN Secretary-General also called for the creation of a second force to fight militants; according to media reports, the remaining French troops could be part of this force.
But the UN's talk of additional troop deployments to Mali is still "merely an idea," RT's Egor Piskunov reported, adding that "when the French troops do leave it will be a completely different game for the remaining thousand."
The US has suggested that troops from the Economic Community of West African States (ECOWAS) deployed in Mali are "completely incapable," and are not "up to the task" of fighting the rebels.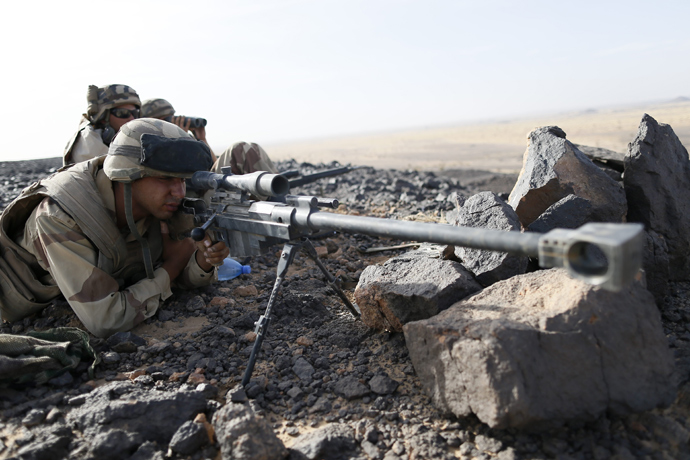 "Right now, the ECOWAS force isn't capable at all. What you saw there, it is a completely incapable force. That has to change," AFP quoted the Assistant Secretary of Defense for Special Operations Michael Sheehan as saying at a Senate Armed Services subcommittee.
Illicit arms supplies and Al Qaeda's response 
The threat from insurgents has escalated because of illicit weapons transfers from Libya to West Africa and the eastern Mediterranean. A new report compiled for the UN Security Council argued that since the uprising in Libya in 2011, the country has become "a significant and attractive source of weaponry in the region," making it a source of illicit weapons transfers that fuel regional conflicts, including the one in Mali.
Al-Qaeda chief Ayman Zawahiri has also called upon Muslims in Arab Spring countries last week to unite and establish an Islamic state, and warned France over its military intervention in Mali.
"Let your fight be in the name of Allah and with the aim of establishing Allah's sharia [law] as the ruling system," France 24 quoted Zawahiri as saying in his first online message since last November. Zawahiri further claimed that France would face a protracted military campaign in Mali, warning it would face "the same fate America met in Iraq and Afghanistan."
"I call upon our Muslim nation in Mali to hold and be patient, and hopefully, affect a new defeat to the global crusade," he added.
'War in Mali is about resources'
However, experts argue that the Mali intervention was never intended to be a quick operation.
Former French intelligence officer Claude Moniquet, who had been stationed in northern Africa and the Middle East for about 20 years, told RT that from the very start he was doubtful that the intervention in Mali was going to be as short as expected.
"The French army has expelled insurgents from the cities and so what? Would they retreat? They will come back, exactly as they did in Afghanistan when the Soviets withdrew in 1989, and exactly what they will do in Afghanistan when the last American soldier will retreat."
Investigative journalist Michel Collon, who has written extensively about war strategies and the media coverage of military conflicts, argued that the "war is not a solution," as the reasons behind it were the region's resources.
"The problem in Mali is that it is poor, so this gives possibilities for terrorism. And if Mali is poor that is because of the plundering by French companies," Collon told RT. "The real goal of French presence is not to combat the Islamists, but the resources."
Collon believes that the French would like to keep Africa under its control, and that the war is about fighting "against the possibility of an autonomous Africa."
"They want to prevent a form of unity of Africa and that they want to prevent a form of alliance between the BRICS [Brazil, Russia, India, China, South Africa] and also the African economies. That is a war for keeping Africa under colonial rule," Collon added.
You can share this story on social media: