Mali gold: Splendors for foreign firms, misery for Malian miners
War-worn Mali has tripled its gold exports over the last decade, though the rising profits are being funneled outside what is one of the world's poorest countries: Foreign corporations appear to be taking over one of Mali's few thriving industries.
Mali, Africa's third-largest gold producer, has just announced it expects to double annual gold output over the next five years to 100 tons.

Malian officials claim the gold-abundant south has been untouched by the military conflict between government troops and Tuareg insurgents in the north, which prompted an intervention by France in January. The promise of gold has lured investors into one of Mali's most profitable industries.

However, residents have decried the news, as they feel they will benefit little from the country's newfound riches. Thousands are employed as 'traditional miners' in the town of Yanfolila in southern Mali, the epicenter of the country's gold rush.

Traditional mining is a near-medieval process in which Malian workers dig holes approximately the size of their own bodies using only primitive picks – their gold mines. Without a proper geological survey, workers are essentially hoping to get lucky. The narrow shafts go as deep down as 60 meters, the equivalent of a 15- to 20-story building.

Having gone just several meters down one of those holes, RT's Maria Finoshina described the experience as frightening, with the dark and cramped tunnel having barely any room for movement, and no support structures to guarantee safety inside. Finoshina said she could feel oncoming oxygen deprivation after spending just minutes underground.

The gold miners' camp is equally barebones, with entire families helping: After the men extract rocks, women pound, sift and wash them.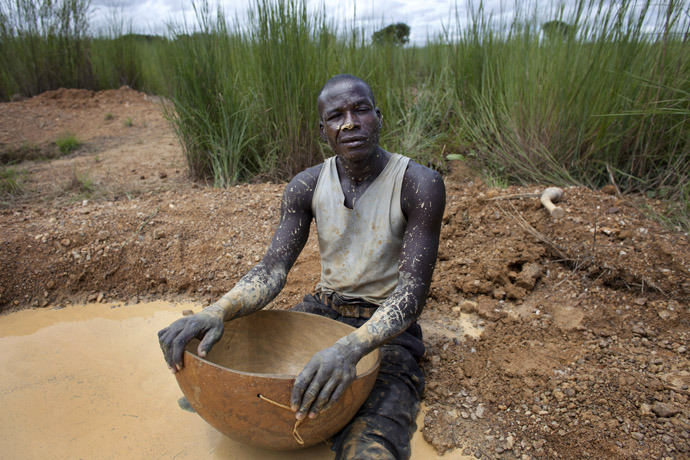 "Having spent here around five hours we are dirty exhausted and terribly dehydrated. People usually work here from 10 to 11 hours per day. Every evening they are paid, but not in cash – they are given rocks taken from the mine. This may contain gold – if it doesn't they are just left empty-handed," Finoshina said. 

The hours of backbreaking labor usually only yield small grains of gold, which are then taken to market and sold for a few dollars a gram. Gold from Mali then travels to Europe and China to be made into jewelry, leaving no trace of its painful origin.

 "I'm not happy as I work more than I get. It's not for pleasure – it's a hard job. And it's disproportionate," miner Adama Tsanal said.

The fact that these miners pay no taxes is little relief, as they are also exempt from social safety programs.

Malian authorities have announced plans to ban traditional mining altogether: "The activity reached a huge scale – we lose a lot. Black market growing. There is no tax system. We don't have a penny from it," Lassana Guindo, president of Mali's national direction of geology and mines told RT.

Officials appear to favor industrial mining performed with machinery, which are often referred to as government mines. Despite the name, these facilities often have major financial backing from large foreign companies, and only 20 percent of their revenue is paid into the country's coffers.

Foreign investment in gold mining in Mali is expected to grow: This November, a joint Malian-Swiss venture will launch the country's first gold refinery. With a monthly capacity of half the country's annual production, it will demand a huge increase in production. At least seven Chinese geological agencies have already arrived in the country, and many more are likely to follow.

"Will these others change anything to the better for people? It's a big question and that makes me sad," Broulaye Diallo, a traditional mine owner said.

Many struggling Malians believe that large foreign corporations will take over the country's abundant natural resources – wealth that could otherwise be used to pull Mali out of extreme poverty.

Banning traditional mining also do little to bring stability to the volatile region. An attempt last year to cut 12,000 jobs at a platinum mine in South Africa saw the country wracked with violence for several weeks.

You can share this story on social media: