Malian army gains ground in conflict as UN warns of mass refugee exodus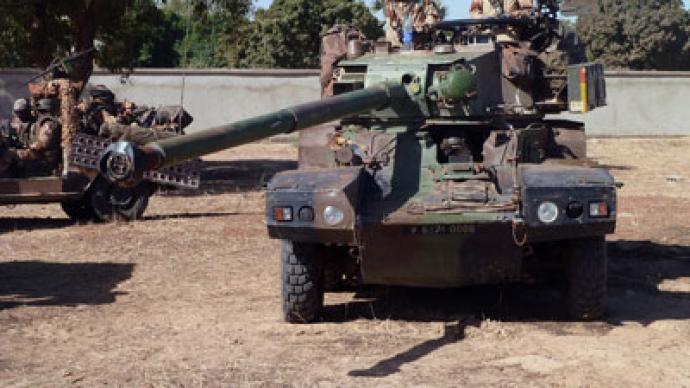 The Malian army has beaten back Islamist rebels entrenched in 2 strategically important towns in central Mali. The UN has predicted a potential exodus of up to 700,000 refugees amid fears the conflict could spill into neighboring countries.
Fighting was reported in the towns of Konna  and Diabali in central Mali on Thursday. Islamist rebels seized the strategically important towns on January 10, prompting the Malian government to request aid from France to push the rebels back. "We have wrested total control of Konna after inflicting heavy losses on the enemy," the Malian army said in a brief statement. Regional security agencies confirmed the claims.The international community fears that if the rebels reach the capital Bamako they will form "a terrorist safe haven in the heart of Africa."A hundred Togolese and Nigerian soldiers arrived in Mali late on Thursday to reinforce the 1,400 French soldiers already deployed in the country. The Economic Community of West African States (ECOWAS) has pledged 3,000 troops to the conflict, but the initial date for their deployment was September of this year. As a result, many of the nine regional allies have said they cannot send immediate help.French President Francois Hollande has repeatedly promised that the French presence in Mali will be short-lived, and will end when the Islamist rebels have been eradicated. However, concerns have been raised that France will be there for the long haul, given that the rebels were well-armed and better-prepared than originally believed.The UN refugee agency warned on Friday that if the conflict becomes drawn-out, as many as 700,000 people could end up fleeing the area."We believe there could be in the near future an additional 300,000 displaced inside Mali and up to 400,000 additional displaced [refugees] in neighboring countries," UN refugee agency spokesperson Melissa Fleming said at a news briefing.Around 147,000 Malians have sought refuge in neighboring countries since Islamist militants seized control of the north of the country nine months ago. The UN estimates that since France began its aerial bombardment last Friday, more than 2,700 people have fled the region.
France architect of conflict that could 'burn Africa'
President Hollande has claimed that France's intervention in Mali is justified because of the hostage crisis in Algeria propagated by Malian rebels."What's happening in Algeria provides further evidence that my decision to intervene in Mali was justified," the French President told business leaders in Paris.Peace activist Reiner Braun painted a different picture when he told RT "the French government is responsible for the crisis.""There is no argument for sending these troops to Mali, you cannot solve the problems of Mali with military intervention," Braun said.He stressed that France's move was "immoral," and will result in a similar situation to Afghanistan that will kill hundreds of thousands and "burn Africa."
You can share this story on social media: