'Gates of Hell': France upping military presence in Mali conflict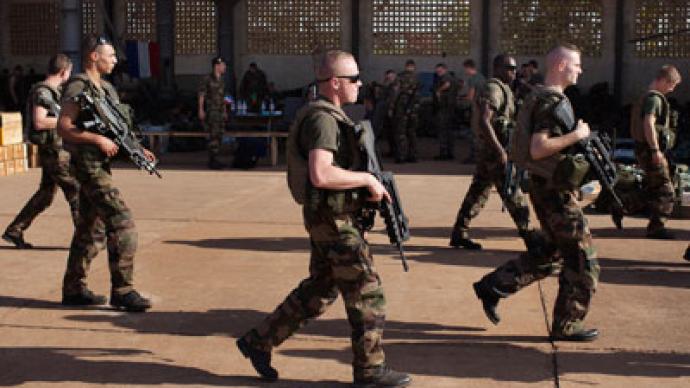 France is sending more troops to Mali to fight against al-Qaeda-linked militants. Paris claims the move is short-term, but delays to the deployment of an African security force have raised fears the conflict could spill over into neighboring nations.
The French government issued a statement that it would send 2,500 troops to support Malian government soldiers in the conflict against Islamist rebels. France has already deployed around 750 troops to Mali, and French carriers arrived in Bamako on Tuesday morning .French president Francois Hollande hailed the latest overnight airstrikes on rebel targets as "achieving their goal," but said that assembling an African force to reinforce French troops could take a "good week.""We will continue the deployment of forces on the ground and in the air," Hollande added. Thus far, Amnesty International reported that six civilians had been killed by the French airstrikes.On Tuesday Hollande vowed that France's intervention in Mali would end as soon as the security and stability of Mali was provided for."We have one goal. To ensure that when we leave, when we end our intervention, Mali is safe, has legitimate authorities, an electoral process and there are no more terrorists threatening its territory," Hollande told a news conference during a visit to the United Arab Emirates, Reuters reports.In contrast to the French President, Foreign Minister Laurent Fabius said that French troops would be in Mali for "a matter of weeks." During a visit to the Arab Emirates, Fabius stated he was confident that France would receive support from Gulf nations in the conflict.West African defense chiefs will meet on Tuesday to approve the deployment of ground troops into Mali to tackle the Islamist rebel forces. No EU members will be allowed to attend the meeting because "they don't want any French pressure," a diplomat told Reuters."On January 15, the committee of Chiefs of Defense Staff will meet in Bamako to approve the contingency plan," the mission head of the Economic Community Of West African States (ECOWAS), Aboudou Toure Cheaka, told Reuters. Troops would effectively be on the ground within a week as a precursor to a full intervention plan, Cheaka said.The original UN-approved initiative to deploy 3,330 West African troops was scheduled for this September, but the plan was brought forward when the French began their aerial bombardment of northern and central Mali on Friday. Nigeria, Burkina Faso, Niger, Guinea and Senegal have all pledged troops, but said that a full deployment would have to wait because of training constraints.
Despite the heavy French bombardment of rebel targets in the northern and central regions of the country over the weekend, Islamist militants are continuing to advance in their push towards the capital Bamako. Rebel militants wrested the town of Diabaly from Malian security forces in a counterattack, the French Ministry of Defense reported on Monday. A leader of the al-Qaeda-affiliated of Movement for Oneness and Jihad in West Africa (MUJAO) told AFP that the rebels would strike the "heart of France" for their "attack on Islam."The French had "opened the gates of Hell" and sprung a trap far "more dangerous than Iraq, Afghanistan and Somalia," the MUJAO leader said.The French government has subsequently increased security for public buildings and transport. France's intervention has also sparked worries over the status of the eight French hostages currently held captive by al-Qaeda-affiliated militants in the Sahara Desert.The international community has rallied behind France's campaign in Mali, and offered logistical support. Fears have been voiced on the international stage that if al-Qaeda-linked rebels entrench in Mali, the country could become a platform for them to spread throughout the region.US Defense Secretary Leon Panetta confirmed that the US was providing intelligence to French forces in Mali. "One is obviously to provide limited logistical support, two is to provide intelligence support and three to provide some airlift capability," Panetta said during a press briefing."We have made a commitment that al-Qaeda is not going to find any place to hide," Panetta told reporters on Monday. Canada, Belgium, Denmark and Germany have also publicly backed the French incursion, pledging logistical support in the crackdown on the rebels."There is no consideration of putting any American boots on the ground at this time," Panetta however also said after meeting his Portuguese counterpart on the first leg of a trip to Europe.
'France-Afrique'Award-winning columnist Eric Margolis told RT that the French intervention in Mali was like "dropping an explosive in the middle of the fire," heralding a possible return to the post-colonial days when Mali was known as "France-Afrique." "Hollande announced just recently that there would be no intervention in Africa and that the old days when the French used to go in and overthrow governments overnight were gone," Margolis said. He added that critics had accused the French President of attempting to distract the public from the country's rising financial crisis.Margolis stressed that the move was dangerous for both France and a "cash-strapped NATO," implying they may be overstretching their resources."What's happening in Mali now is going to spread to unstable Chad, where there is uprising going on, Central African Republic, the Ivory Coast and even Nigeria," Margolis concluded.According to Pierre Guerlain of Paris West University Nanterre La Defense, the Malian crisis was created by Western intervention in Libya."If we go back a little, this crisis is in fact the direct consequence of the misguided intervention in Libya, because many of the fighters fighting the government in Mali are people who were armed in Libya and that were driven out of Libya by the Western intervention," Guerlain told RT.There's a possibility this intervention would promote more Islamic extremism, as Al-Qaede is "clearly the target" of French and African forces in Mali, he added.
You can share this story on social media: