'Have you no shame?' Grief-stricken families of MH370 passengers protest in China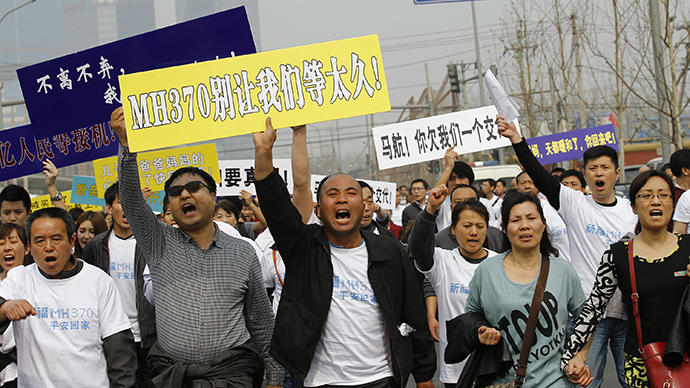 ​Hundreds of people have gathered outside the Malaysian embassy in Beijing to protest what they call two weeks of "lies and misleading information" from the Malaysian authorities after flight MH370 disappeared two weeks ago.
Malaysian Airlines issued an official statement confirming that "beyond any reasonable doubt" flight MH370 has been lost and that none of the 239 people on board have survived on Monday night

Following the announcement, several hundred family members of the flight's passengers gathered in front of the Malaysian Embassy in Beijing to decry what they see as the Malaysian government's mishandling of the tragedy.

A small group of grief-stricken family members attempted to storm the embassy building, but were repelled by police. The rest of the protesters stood outside the gates waving banners amid cries of "Are you coming out?" "Have you no shame?" and "Murderers!"
Bottles of water being thrown into embassy compound. small number relatives try to storm the embassy. Held back by police.

— Philip Wen (@PhilipWen11) March 25, 2014
Some protesters scuffled with plain-clothes policemen, but there were no serious clashes reported.

Among the flight's passengers, there were 153 Chinese nationals, which has made the situation highly emotionally-charged in Beijing. Members of family have lodged a number of complaints about Malaysian Airlines' management of the situation and accused them of deliberately concealing the truth.

The Chinese Family Committee issued a statement this week, branding the airline as "executioners."

"If the 154 passengers did lose their lives, Malaysia Airlines, the Malaysian government and military are the real executioners who killed them. We the families of those on board submit our strongest protest against them," said the statement.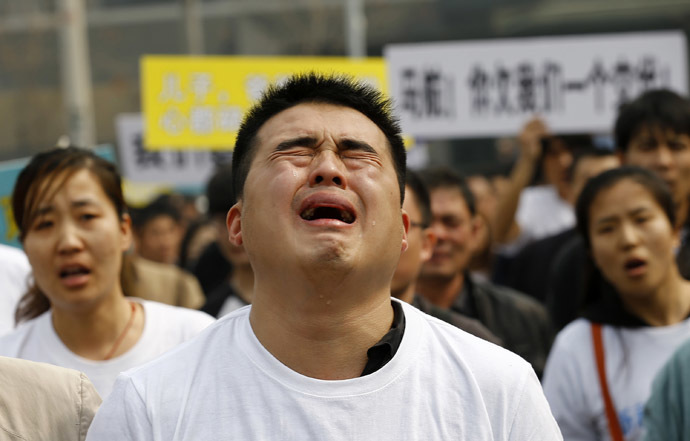 Furthermore, the Chinese authorities demanded that Malaysia turn over the satellite data they used to ascertain the plane had crashed down in the southern Indian Ocean on its way to Beijing from Kuala Lumpur.

"We demand the Malaysian side make clear the specific basis on which they come to this judgment," Deputy Foreign Minister Xie Hangsheng was quoted as telling Datuk Iskandar Bin Sarudin during their meeting late Monday, reported AP.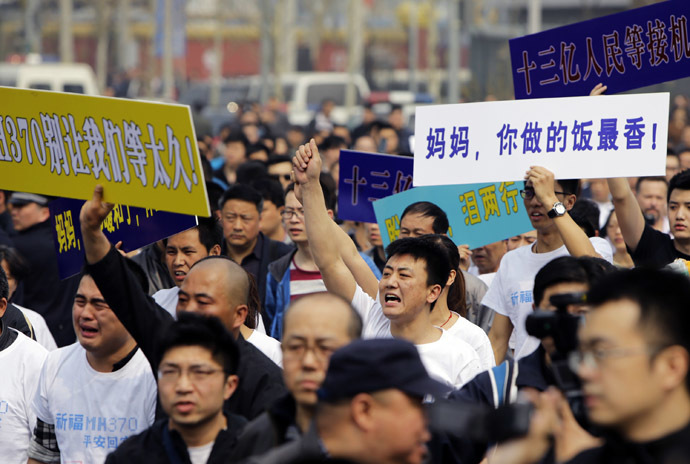 On Monday night Malaysian Prime Minister Najib Razak made an announcement, saying "It is therefore with deep sadness and regret that according to this new data, flight MH370 ended in the southern Indian Ocean." He added that new analysis by Analysis by the British satellite company Inmarsat and the UK's Air Accidents Investigation Branch (AAIB) had led the Malaysian authorities to conclude that the last location of the plane was over the southern Indian Ocean.

However, there have been no sightings of the plane or debris that would confirm this theory after an international search that has lasted for two weeks.
You can share this story on social media: