Not guilty: Court acquits official charged with Magnitsky's death
Published time: 28 Dec, 2012 10:22
Edited time: 28 Dec, 2012 15:13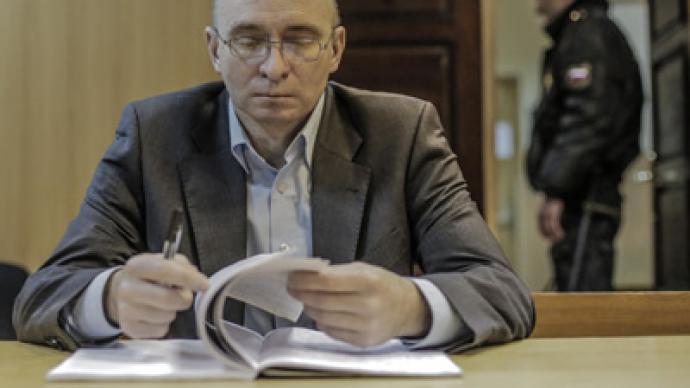 A Russian court has acquitted the former deputy chief of the prison where lawyer Sergey Magnitsky died. A judge ruled there was not enough evidence Dmitry Kratov was guilty of negligence.
Kratov was the only official facing a trial following the death of Magnitsky who died in a Moscow prison while under investigation for tax evasion and fraud. The prosecutor also asked the court to acquit Kratov.
"Diseases revealed in Magnitsky are not related to his death. It was impossible to diagnose diseases that caused his death", said Tverskoy Court judge Tatyana Neverova.
"Kratov's inaction wasn't confirmed. There was no 'corpus delicti' in Kratov's action," added the judge.
The Magnitsky case began in 2007, when British investment fund Hermitage Capital, one of the biggest foreign investors inside Russia, fell victim to a US$230 million fraud. The fund hired corporate lawyer Sergey Magnitsky, whose investigation brought forth names of officials in Russia's Interior Ministry he believed to be involved in the scam.
Soon after that, the lawyer was arrested on charges of assisting Hermitage Capital to evade tax and was put into a detention facility. Spending a year there, Magnitsky suddenly died in November 2009. An inquiry into his death proved he had been denied crucial medical treatment. His supporters allege the lawyer had been tortured in an attempt to get him to withdraw his accusations.
Kratov said he regretted the death of Magnitsky.

Magnitsky's family and associates described the trial as sham, saying authorities failed to prosecute officials responsible.
The lawyer's death became a rallying point for human rights advocates in Russia and abroad. In particular the US approved the so-called Magnitsky Act, which introduces US visas bans and other sanctions on Russian officials, who the US suspect of human rights abuses, and was signed into law by US President Barack Obama earlier this month. The bill provoked retaliation from Moscow, including a law barring Americans from adopting Russian children.