Vintage plane crashes outside Madrid at aerobatics show (VIDEO)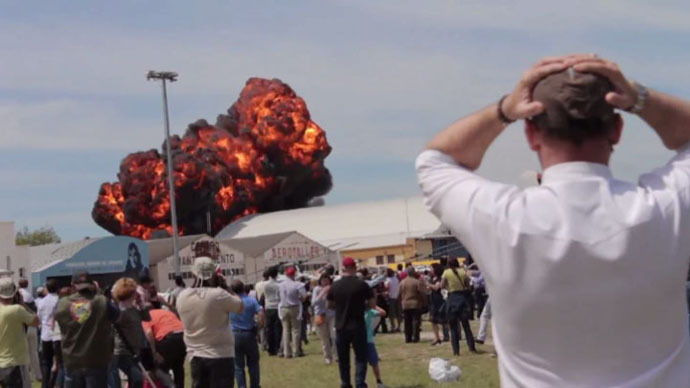 An air show featuring aerial acrobatics and vintage aircraft has ended in tragedy near Madrid as a stunt plane crashed into buildings. A pilot sustained severe injuries and reportedly died in hospital. A spectator caught the moment of crash on film.
A spokesman for Spain's airport authority said some 3,000 people were at Cuatro Vientos airfield, located to the southwest of the Spanish capital, watching the air show.

The footage clearly shows a plane making what looks like a normal flight during a series of aerial acrobatics tricks. But suddenly it dives and after a short free fall crashes into hangars away from the field.

Before the viewer had a chance to realize what had happened, the aircraft exploded. The ensuing blaze was then followed by a large plume of smoke that could be seen rising above the hangars.

No one aside from the pilot was hurt, officials told AP. The pilot was later reported by local media to have died of his wounds whilst in hospital.