London 2012: The best Games the world has never known (Op-Ed)
Published time: 6 Aug, 2012 20:51
Edited time: 7 Aug, 2012 13:21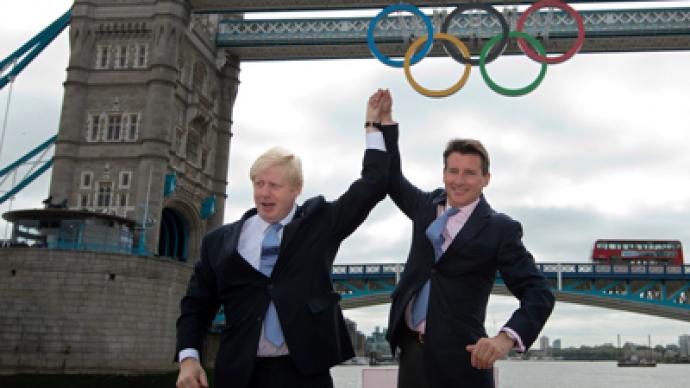 I'll come straight out with it. I feel sorry for Locog. While they could be staging the most spectacular Games in history, it's not like anyone will congratulate them on it.
­It is unusual to feel sympathy for an acronymed, faceless quango with a remit to spend billions of the taxpayers' money on an event that barely lasts two weeks.
But the London Organising Committee of the Olympic and Paralympic Games has provoked in me an irresistible urge to defend it at every possible opportunity – and there are many of them.
The athletes, public and newly-minted national treasure Danny Boyle are getting the praise at London 2012, but the functionaries behind the Games have already been reserved a conference room in media hell.
In the last ten days, the ticketing has been described as a "fiasco" and the security as a "shambles," while London has apparently turned into a "ghost town."
A brief history of whine
­The carping about the cost and wastefulness of the Olympics, or perhaps even their decidedly un-British ostentation, began the day London surprisingly beat out Paris in 2005, and has continued unabated. It has been a drip-drip of simultaneously apocalyptic and feverishly gleeful predictions of a gridlocked city, adorned with white elephants – cavernous palaces housing obscure and alien sports like synchronized swimming and handball, soon to be abandoned and left to serve as reminders of Babylonian folly.
Anticipating these criticisms, the Olympics, Locog, the City of London and the government set themselves aims of almost unreachable worthiness. London 2012 would not be a gaudy extravaganza of national pride, but instead provide regeneration and participation, all on a modest budget.
Gentrification has started in rundown Stratford with a new gleaming shopping center, though it is unclear if the area will retain its festive sheen once the closing ceremony wraps up. The superb new transport links should help, but an immediate boom in a stagnant economy looks over-optimistic.
"Inspire a generation" is tagged over the retina-searing purple and pink backdrops like an ancient mantra of salvation. Yet, it is not self-evident that thousands of school kids have kicked away their footballs to take up archery and dressage. Certainly, statistics have not shown a notable rise in participation ahead of the Games.
As for the cost, London 2012 is expected to come in at $14 billion – a trifle compared to the $43 billion invested into the opulent Beijing Games – but nonetheless a substantial total.
But in shooting for these targets, whether it achieves them or not, London seems to have forsaken the essence of the Olympics. At their heart the Games are still a festival, a pageant maybe, but not a social development project.

Thriller
And as a celebration, London has succeeded spectacularly.
The Beijing Games, the World Cup in South Africa in 2010, and the upcoming double-whammies of Olympics and World Cups set to take place in Brazil and Russia, are all chances for fast-growing middle-income economies to prove themselves on the world stage. They are acts of political showmanship for their leaders. And with tickets that rival monthly salaries, no one would claim that these are truly people's festivals. At Beijing and in South Africa there was also a sense of countries exerting themselves to create a temporary picture of organization and efficiency quite at odds with the day-to-day reality of life.
In contrast, London, already a world capital run by Boris Johnson, a blond-mopped man who will laugh at himself first before letting anyone else join in, has less to prove, and doesn't need to look like a try-hard.
And this has produced a relaxed and genuinely festive mood during the Games.
The Olympic Park, with its quintessentially English sight of blankets laid out over the grass, has felt more like a chilled-out music festival than the spectacular display of scale and concrete in the Chinese capital four years ago.
The volunteers – tens of thousands of whom took holidays just to put in 12-hour shifts – boom improvised messages of goodwill through speakerphones, point to venues with giant foam fingers, and perform routines to Michael Jackson hits.
The crowds are passionate, filled with people who had to bid against others just to secure a ticket, and feel like they've won a lottery. They are also generous, reserving as much applause for the international stars they are lucky enough to witness in their prime, as for the hometown heroes.
Looking for trouble
Not that you'd know any of this if you were more than a javelin's throw from the Olympic facilities. Although it was reported by every newspaper that one designer described the volunteers uniforms as "atrocious."
One would have thought the media hysteria might have calmed once the Games began, to be replaced by pictures of crying athletes, watched from the stands by smiling royals.
If only.
Initially preparing to moan about unsold tickets, once the papers realized the tickets sold well, they found a new pet subject – empty seats at fully-booked venues.
Locog "tsar" Sebastian Coe was forced to stand and defend himself before the media knew who to accuse. In the end, the empty rows turned out to be nothing to do with Locog at all, but forced upon the organizers by Olympic officials, who reserve them for international dignitaries, sportsmen, and, a fact that no one mentioned, journalists themselves.
Also, they have existed at every single Olympic Games in history, the very definition of an intractable issue. Nonetheless, London organizers rushed into action, asking Olympic officials to return unused allocations and let used tickets be re-sold for a nominal amount to the crowds milling outside.
But by then, the sad islands of empty bleachers had already made front pages of every UK newspaper.
When predictions of a long-prophesied traffic collapse singularly failed to materialize, the newspapers found a cloud to match the silver lining. Apparently, London was now a ghost town, with a populace cowed and afraid to leave the houses. The Olympics are not the economic boon they were predicted to be, but instead the final nail in the coffin of the British economy. Cue: photos of tragically deserted streets.
But this is perhaps not the most inappropriate media story of the Games.
Dan Harris, a cyclist, happened to be fatally injured after being hit by an official Olympic bus, the same day as Bradley Wiggins, a professional British bike racer, won his gold. The symbolism was too tempting to let the story just be a one-off personal tragedy. It had to signify something, even if the media struggled to find exactly what, and a culprit has to be found, though no one was sure who he was. After several days of increasingly far-fetched coverage, the man's parents had to intervene, and released a statement urging the media to stop using their dead son for "political point-scoring."
Less than a week remains before the Olympics come to a close, and the words Stratford, Locog and "the Pringle" fade back into relative obscurity, leaving only memories of Bolt, Phelps, Hoy and the other champions. In these few days – before the inevitable toting up of the economic boost of the Olympics, or the reports of rotting, empty venues – I urge those who had the chance to witness the Games first hand, those who did not think they "embodied the spirit of Nazi Germany" (thanks Morrissey) to congratulate the people who have made it possible, while they are still here, while they still matter.
Not to dance a big jingoistic jig about the return of the British Empire or Cool Britannia. A simple acknowledgement that these Games were not the disaster people feared or hoped they would be, but have been competently staged.
The sweetest compliment a Locog bureaucrat could hear.
­Igor Ogorodnev for RT