Tragic hockey star's lifesaving legacy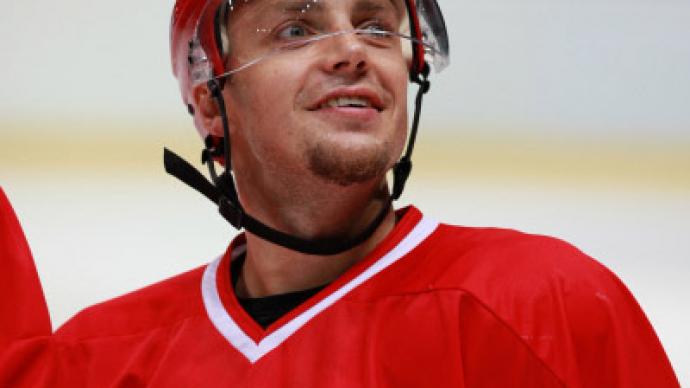 A sad twist in the Yak-42 tragedy reveals that one of Lokomotiv players who died in the crash was anonymously giving money to sick kids, and the last half-million ruble payment was transferred to a young cancer patient minutes before the take-off.
It was several days ago that the parents of 16-year-old Diana Ibragimova from Voronezh learned the real name of the man who saved their daughter's life. Ivan Tkachenko, captain of the Lokomotiv Yaroslavl hockey club, was sending big sums of money to Voronezh without disclosing his name or expecting any gratitude at all, Lifenews online tabloid reports.Diana's mother burst into tears when she learned Ivan had died in a horrible accident. It took her a long time to understand that the man she knew nothing about, just that his name was Ivan, was in fact Ivan Tkachenko, captain of the famous Lokomotiv hockey club.The hockey player's secret was disclosed thanks to a well-known Russian blogger, Varfolomeev. In one of his latest posts he wrote that the athlete had regularly been transferring large sums of money to sick children. Diana was one of the several lucky children whom Ivan had patronized.Ivan transferred money to Diana's family twice, and both times he asked that his name not be indicated under any circumstances. "We did not even know who our daughter's benefactor was, just his first name," cried Elena, Diana's mother. "We received 500,000-ruble transfers twice; they both came from an unknown Ivan. I thought he might be a successful businessman and could not imagine he was one of the best-known Russian hockey players. Such a young man!" exclaims Elena.After the family received the second transfer, they wrote a letter to Ivan, but they never received an answer. Neither Diana nor her mother knew that just minutes after sending the money, Ivan Tkachenko died in a horrific plane crash not far from the city of Yaroslavl. The modest young hockey player did not like to talk about his philanthropy. Only his closest friends knew that Ivan helped children who were diagnosed with terrible diseases. "Vanya adored children," one of Tkachenko's friends recalled. "His wife is now expecting their third child."His relatives say Ivan always rushed to help when he saw a child needed his assistance."Ivan did not want anyone to know he was taking part in charity," said the authorities at the Advita charity fund. "He did not want gratitude; he just helped kids and adults who were in need of his help. He saved many lives!" they added.
You can share this story on social media: