Bomb strikes Libyan capital's international airport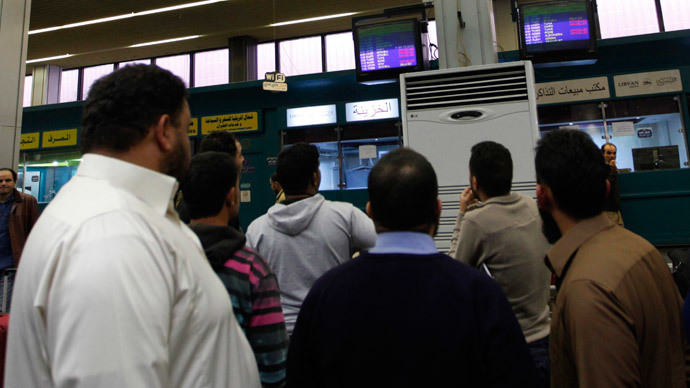 A bomb exploded in the major airport of Libya's capital, Tripoli, sparking further concerns about the widespread violence that has plunged the crisis-torn country into chaos.
Unidentified people managed to get onto the runway at Tripoli International Airport, plant an explosive device at dawn and detonate it using a timer, said Transport Minister Abdelqader Mohammed Ahmed.
"When security and the airport protection force arrived they found a timer," he said, adding that the explosion was "small."
The authorities immediately closed the airport, which is considered to be one of the best-guarded places in the country. Flights, both local and international, were immediately canceled.
There was little airport traffic in the night as many foreign airlines try to avoid late flights fearing possible attacks from the Libyan opposition, which helped to oust the country's former leader, Muammar Gaddafi, in 2011. Since the country has been plagued with bombings and assassinations.
Meanwhile, the local authorities had to open an alternative runway in the airport while the main one was still blocked.
Libyan airlines restarted operations in the afternoon. However, foreign flights remained canceled, according to the country head of a foreign airline with several daily flights to Tripoli. European airlines such as Lufthansa and British Airways fly to the Libyan capital apart from Arab planes.
Although the country's Transport Minister said the country's authorities would improve security at the airport, there is a broader concern that the country is descending further into turmoil.
On Saturday, Libyan troops started fighting rebels, who had occupied three oil ports after fighters attacked an army base in the town of Ajdabiya near the main eastern city of Benghazi, said local residents.
The opposition forces, under the lead of rebel leader Ibrahim Jathran, whose group demands regional autonomy and a greater share of oil wealth, were preparing an attack to break the blockade. On March 12, Tripoli authorities gave the rebels a two-week deadline to end the blockade of oil ports, or face a military assault.
Local media reported casualties, but still there is no confirmation from medical officials.
After the US and NATO military intervention in Libya in 2011, the country has been mired in deep political crisis as well as economic trouble. It has also been unable to curb numerous local militias.
Rebels have taken control of the nation's major oil wells, eliminating Libya's largest export. Unable to cope with the deteriorating situation in the country, the Libyan government asked the international community for help with the "War on Terror."
You can share this story on social media: