"NATO fighting another Cold War in Libya" – journalist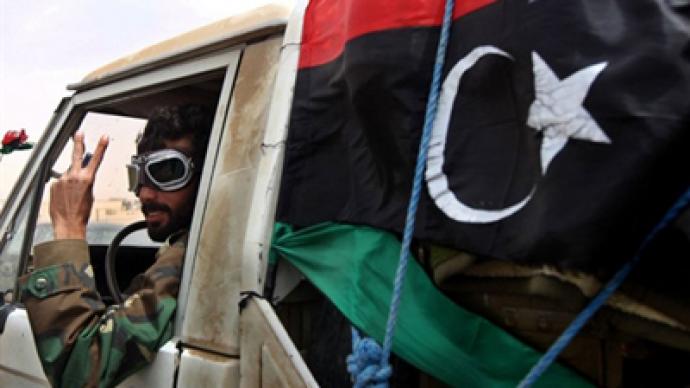 The NATO operation in Libya, argues author and journalist Patrick Henningsen, is really about targeting the third party nobody is talking about: China.
"If you look at the Soviet Union vs. the West, the original Cold War, this was not so much a war that was fought face to face on a military field," he said. "This was a war that was fought in third-party regions and usually through proxies, and this is exactly what we are seeing today, especially in the last month in North Africa." Henningsen stressed that the goals of intervention by the UN and NATO forces are very different from those drawn up in UN Resolution 1973. "The goals are regime change, and also the goals are the control of resources in that region and the eviction – in other words, the dismantling – of Chinese economic interests in Africa," he said. "Just in Libya alone, Chinese contracts are valued something like $20 billion. If you look at the instability that has been caused by this situation in Libya and across North Africa, according to Beijing's Ministry of Commerce, the turnover from these Chinese investments in North Africa dropped almost 15 percent in the first two months of this year," Henningsen added.  "Destabilization is hampering Chinese influence and economic investment in the region," he concluded.Journalist and author Afshin Rattansi thinks "there has been a cold war since the Second World War – with China arguably." "And it is certainly hotting up, but the state department, the think tanks on Capitol Hill do not seem to understand what to do, perhaps because of the American lobbying firms on K-Street in Washington, who themselves are trying to gain contracts with the world's fastest-growing or most exciting economy like China," says Rattansi.
Independent journalist James Corbett believes it would be naïve to think that China-US rivalry is the only factor playing a role in Libya, but Beijing is certainly concerned about what is going on. "Chinese investment in Africa has been growing at such an incredible rate over the past several years, and Gaddafi himself has been on record to say that he believes that China will ultimately be the major player in Africa, because Chinese aid to African countries isn't tied to humanitarian concerns the way aid from the West is or, at least, supposedly is," said Corbett.
Meanwhile, President Obama says "boots on the ground" will be the only way to bring humanitarian aid to civilians in Libya. Conn Hallinan, columnist for Foreign Policy In Focus, believes this is an indication that a ground operation could also start soon. "If you're putting boots on the ground for a NATO operation, you've got to protect the aid workers. You don't have any choice. You can't put people in there and not protect them, and so you need soldiers. This is an automatic violation of the UN resolution," said Hallinan.
Igor Khokhlov from the Moscow based Institute of World Economy and International Relations believes Beijing will not sit quiet for long, especially as it sees American competition spreading across Africa to win influence."China has always advocated the non-involvement policy which has always been more of a myth than a political reality, but it has proven to be very useful while dealing with oppressive regimes while at the same time criticizing imperialist United States and European countries when necessary" says Khokhlov."But what we see now is a general change of Chinese policy. China is going to play a more active role and as we see now Americans are trying to remove Chinese competition from many vital regions of the world, South Asia, Middle East, and Africa, not only North but also Central Africa which is rich in resources."
"Asia Times" correspondent Pepe Escobar believes that due to China's increased investment in Africa, the situation on that continent very much resembles that of a chessboard: with Pentagon via Africans against Chinese investments – and in the middle – at least fifty African governments with the domino effect to follow."And then, later on, big dominoes would be the countries where China has substantial investments, example: Angola, Nigeria, Algeria and Equatorial Guinea. So, we have to watch how this is going to play out in the medium term " says Escobar."But if the Chinese see they are floundering in Africa because of the militarization of the continent, they will renew their ties with South America and with Central Asia. I would say they will have many escape routes."
You can share this story on social media: