Lenin the victim of Ukrainian nationalists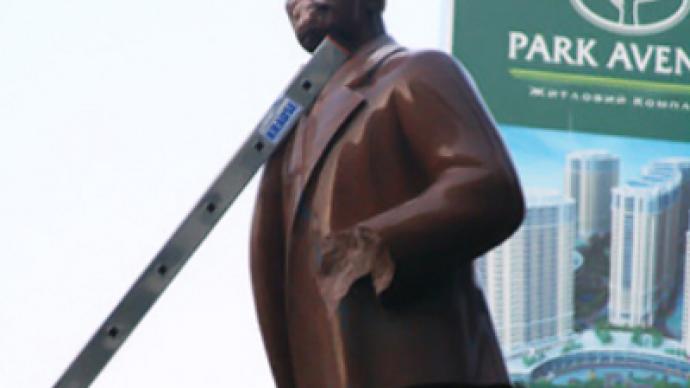 A group of Ukrainian nationalists has seriously damaged a Lenin monument in the centre of Kiev.
Early on June 30, five members of the Ukrainian Nationalists Congress climbed up the world proletariat chief's statue with the help of a ladder and began sledge-hammering the bronze figure blow-by-blow. As a result, Vladimir Lenin lost a hand, while his face turned almost unrecognizable.
Apparently, the action was timed to coincide with the birthday of the head of the Ukrainian Insurgent Army or UPA, Roman Shukhevich. Named "The Hero of Ukraine" by President Yushchenko, Nazi collaborator Shukhevich would have been 104 on June 30.
But while showing their respect to Shukhevich, the five vandals – two students, two unemployed people and a gatekeeper – failed to take into consideration one thing – the Lenin monument has been included in the UNESCO protection list.
Meanwhile, the Ukrainian Nationalists Congress said they had nothing to do with the accident.
"The Congress leadership didn't make any decisions about damaging the monument," said Congress head Stepan Brutsan.
There's nothing surprising in Monday's accident. The Ukrainian president has recently called for people to ruin and dismantle the Soviet epoch monuments, as they remind people of "dark pages" of the country's history. The "request" was met with enthusiasm, especially in the country's west.
You can share this story on social media: