Wonderworking Kremlin icon to be returned to people on National Unity Day
Published time: 3 Nov, 2010 14:07
Edited time: 9 Nov, 2010 15:50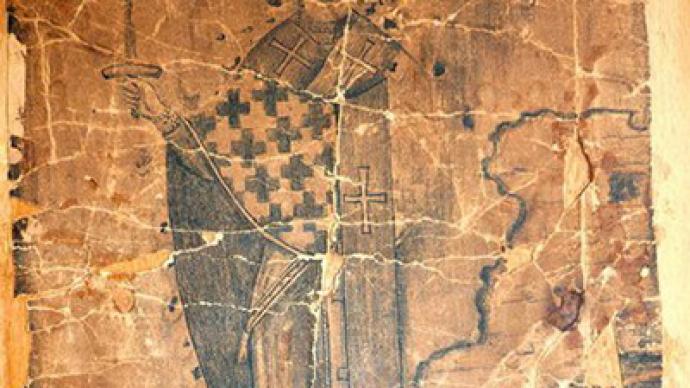 Russia is getting back one of its holy shrines – a fresco icon of St. Nicholas the Wonderworker painted on the Kremlin's Nikolskaya Tower about 500 years ago, and concealed from public eyes for the last 70 years.
­The fresco was rediscovered in May this year, alongside the icon of Christ the Savior on the Spasskaya Tower.
A solemn opening ceremony for the icon will be held on the National Unity Day.
The Day of National Unity in Russia, marked on November 4, is historically connected with the day in 1612, when the Russian people took over Polish-Lithuanian invaders and regained the Moscow Kremlin, being led by national heroes, merchant Kuzma Minin and Prince Dmitry Pozharsky.
It is symbolic that, back in 1612, the Russian troops were entering the Kremlin through the Nikolskaya Tower's gate above which the fresco icon of St. Nicholas, called Nikola of Mozhaisk, was placed.
St. Nicholas is specially regarded in Russia as a patron and protector, and he is one of the people's most worshipped saints.
Nikola of Mozhaisk fresco icon's history is that of a real martyr. When Napoleon Bonaparte was retreating from Moscow in 1812, he set the city on fire and ordered the Kremlin be blasted. The wall of the Nikolskaya Tower, where the icon is placed, split into two parts, but the fresco was miraculously untouched. Since then the icon was considered wonderworking.
During the 1917 October Revolution, when the Kremlin came under Bolshevik fire, the fresco was pierced with bullets. Some of the bullets were taken out of the icon in 1918, and as many as five – only now.
When uncovered, the fresco was in a bad condition and lacked the part where the face of the saint should have been.
"Fortunately, a preliminary drawing with a needle on wet plaster – the so-called "grafya" – was well-preserved. It was very detailed and gave us an opportunity to restore the saint's face," fine art restorer Andrey Kiselyov told Channel One TV.
The damage was not limited only to bullets. In the 1930s the fresco was covered with plaster and several nails were battered into the icon's face to make plaster stick to the wall better.
The restoration works head, Sergey Filatov, told Izvestiya newspaper that the fresco was restored to its 17th Century condition.
Restoration of "above-gate" icons began in the Moscow Kremlin in June this year. The first one restored was the icon featuring Christ the Savior above the gate in the Spasskaya Tower. The opening ceremony took place in August with Patriarch Kirill holding a service and consecrating the icon.
Izvestiya newspaper quotes its source as saying that the restoration works will be continued. Restorers believe that all the gate towers of the Moscow Kremlin earlier had icons of saints on the walls above their gates.
It is hoped that the Borovitskaya, Troitskaya and Kutafya Towers of the Kremlin may also soon reveal their holy guards.