Divided Kosovo holds first elections since split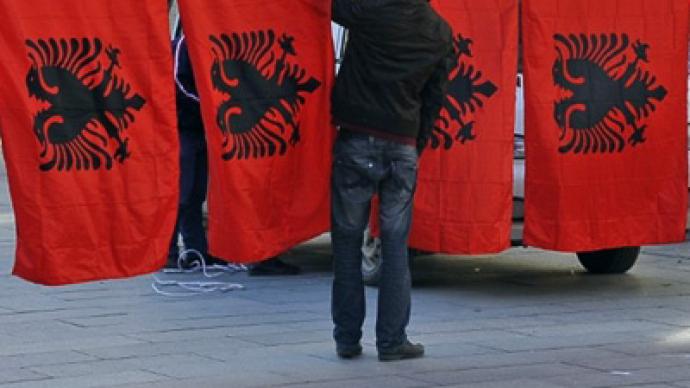 Nearly three years after Kosovo's split from Serbia, the self-proclaimed state is holding its first parliamentary election. But the Serb minority says they feel like outcasts among the ethnic Albanian-dominated population.
Serb enclaves in Kosovo are very small today. They lead a fairly solitary existence, largely cut off from the wider Albanian community and little changed from the war. Serbs live in the shadow of the memories of the conflict in the late 1990s which divided their country and brutalized a generation.RT visited one such enclave. There is a wall around the settlement that was built at the height of the Kosovo War to protect the Serb community behind it from gunfire that would come from the roads in a largely Albanian populated area. And it remains today as a solid reminder of the continuing ethnic conflict."I remember the wall being built after our neighbor was shot whilst he worked on the land near the road," recalls Serb resident Bigana Markovic. "We still live in fear here. It's harder for the children living such a separate existence. They begin to think that's just how things are."These elections are the first polls since the breakaway province declared independence from Serbia in February 2008. Belgrade has made it clear that although they will not penalize Serbs for taking part, they do not recognize those organizing the elections. It is a message being heeded by the Serb community and a weak turnout would significantly undermine the vote's credibility."I'm not going to vote because for us now is not the time for elections when we don't lead a normal life," Bigana Markovic says.Bigana's family uses two cars: one with Kosovo number plates and one with Serbian."Driving on the roads with Serbian number plates here in Kosovo would be too dangerous," explains Bigana's brother Dragan Dancetovic.It was an accurate warning. RT visited Drenas, a town with no Serbs that has been at the heart of many Kosovo Albanian nationalist movements. RT's filming was interrupted by police. Police spotted the Serbian fixer's number plates on the car that the RT crew traveled in. The crew was detained and questioned, before being tailed out of town by locals also unhappy with the presence of the crew there. Their message was clear: Serbs are not welcome. It was also a stark insight into the divisions of power and fractured governance that remains in Kosovo."We don't have checks and balances between political powers. We don't have justice functioning because it's politicized," explains Opposition Party member Glauk Konjufca. "They control justice in order to have a free hand to do whatever they want," he says.The previous ruling coalition parties are tipped as favorites to win power again, despite controversies including accusations of collaborating with organized crime groups. One issue dominates their campaigns. Member of the Kosovo Democratic Party, Belrand Stavileci – the Minister of agriculture, forestry and rural development – told RT that "The main point and the main goal is integration into the European Union."It is a familiar catchphrase and one that holds no sway with the opposition."I think it's pure propaganda in their mouth this kind of Euro-Atlantic integration," Opposition Party's Glauk Konjufca says.The goal of EU integration is not likely to be realized, unless the new government is able to get its own house in order and address the very serious barriers which are still dividing its people.Marko Gasic, from the British-Serbian Alliance for Peace, told RT that Kosovo's Serbs are struggling to survive and are nowhere near becoming a full-fledged part of society.
You can share this story on social media: