Police dismantle barricades in Kiev as tensions run high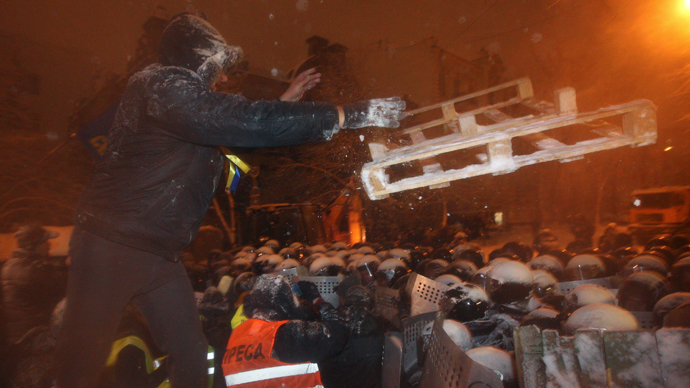 Ukrainian riot police are dismantling barricades set up by protesters in central Kiev as tensions remain high. Though no major skirmishes have been reported so far.
Special forces have dismantled one of the last barricades that was set up by the protesters in the government quarter of Kiev near Bankova Street. Meanwhile there are reports of demonstrators moving towards Independence Square from various parts of city.
Earlier in the evening RT's Paul Scott reported from the Ukrainian capital that security forces have dismantled some of the barricades in the center of the Ukrainian capital to allow traffic through.
There were reports that police will sweep Independence Square, where the majority of the anti-government protesters are located. But the National Security and Defense Council of Ukraine stated on Monday that special forces will not assault the protesters, Vesti quoted Deputy Secretary Vladimir Sivkovych as saying.
Ukrainian opposition said Monday that masked men with guns raided the party headquarters of jailed opposition leader Yulia Tymoshenko and took all the hard drives. In response, Ukraine's Interior Ministry stated the search was sanctioned by the courts.
"One thing for sure is that there has been a heightened police presence on the streets of Kiev this evening and that has led to an increase in tensions," Scott reported earlier on Monday.
Protesters explained that the increased police presence was due to a pro-Yanukovich rally that was happening nearby.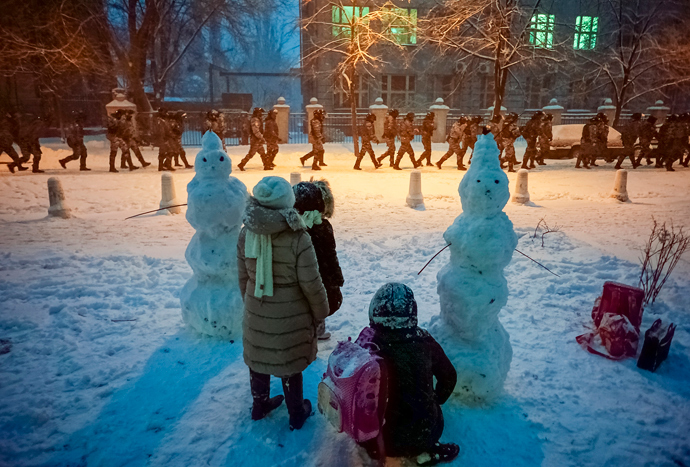 Police have surrounded one of the protesters camps, so it was impossible for the demonstrators to get in or out. But, both sides were keeping calm.
"What really struck me throughout this evening is how civil the situation has been. We've been able to walk through the blockades established by the police, by the pro-government supporters and by anti-government supporters. And we were able to pass through them all. Maybe the fact that we are clearly journalists has something to do with it. But it is quite a civil situation," Scott said.
Opposition and possible talks
US Vice President Joe Biden called Ukraine's President Viktor Yanukovich to warn against the use of violence and expressed "deep concern" about the situation in Ukraine. "In a phone call today with Ukrainian President Viktor Yanukovich, Vice President Biden expressed his deep concern about the situation in Ukraine and the growing potential for violence," said the White House in a statement.
Late Monday evening, about 5,000 were still protesting on Independence Square. Access to the square is still being blocked by police, according local media reports.
In the meantime, famous boxing brothers Vitaly and Wladimir Klitschko joined protesters Monday evening, fighting the police blockade. Wladimir Klitschko stopped a tractor that was moving towards the crowd of protesters, according to the press service of the Ukrainian Democratic Alliance for Reform (UDAR), headed by the older brother Vitaly.
Metro stations Maidan Nezalezhnosti and Khreschatyk in Kiev's downtown remain closed, KyivPost reports. Police have begun closing in on Khreschatyk Street near Hotel Dnipro. Police buses and officers with shields have blocked off access to the area.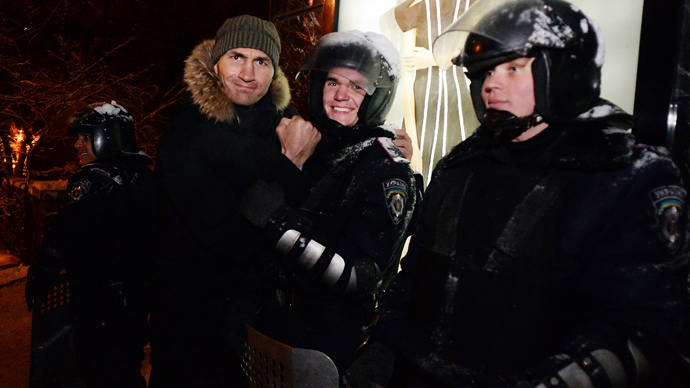 A new move by Yanukovich signalled that he might be willing to listen to opposition demands as his website said the President supported a proposal for round-table talks between government and the opposition. Also, Yanukovich is set to discuss his country's future with three of his predecessors Tuesday.
The Ukrainian opposition said it was ready for talks with Yanukovich, world heavyweight boxing champion Vitaly Klitschko, who is the leader of the opposition Udar (Strike) party, told Reuters. However, Klitschko reiterated the opposition's demand that the government must go. "I am sure that the current government must resign... We have announced our demands more than once and in relation to this we are ready to talk with Yanukovich, because no one else is making decisions," Klitschko said.
Kiev police will clear the roads in central Kiev from barricades and tents by Tuesday, according to an official statement. Local police, aided by Interior Ministry troops and public utilities workers have been dismantling structures installed by opposition protesters on the streets leading to the government offices quarter and Independence Square (Maidan).
No clashes have been reported as lines of Interior Ministry troops pushed the demonstrators away from the roads on Monday.
Unrest in Ukraine began on November 21, when Yanukovich refused to sign an association agreement with the EU, sparking mass protests.
Economic crisis
Political unrest and economic instability have forced Ukraine to take drastic measures to protect the fast-depreciating hryvnia. In November the Bank spent $800 million to 'save' the currency, sending foreign reserves to their lowest since 2006.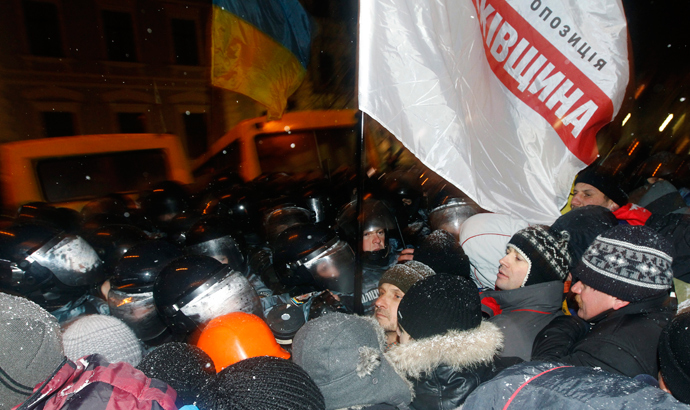 Forex reserves fell to $18.79 billion, the lowest since August 2006, when they stood at $18.73 billion, according to data released Friday by the Central Bank. At the end of October, Ukraine's international reserves had dropped to $20.6 billion, according to Bloomberg data.
The depreciation of the local currency has given rise to demand for cash and currency swaps, which has nearly quadrupled in the last week, reaching a record level of $2.6 billion.
Investors worry a rush to get hold of foreign currency could lead to a government response similar to Cyprus, where authorities used capital controls to protect the currency, limiting movement across borders.
The economy is on the brink of default, and has a total foreign debt of $140 billion, nearly 80 percent of gross domestic product. At least $30 billion is owned by Russian state banks.
Ukraine's economy is approximately $176 billion, and the population in Europe's second largest country by landmass is 45 million.
You can share this story on social media: