Ukraine currency sell-off puts reserves at 7yr low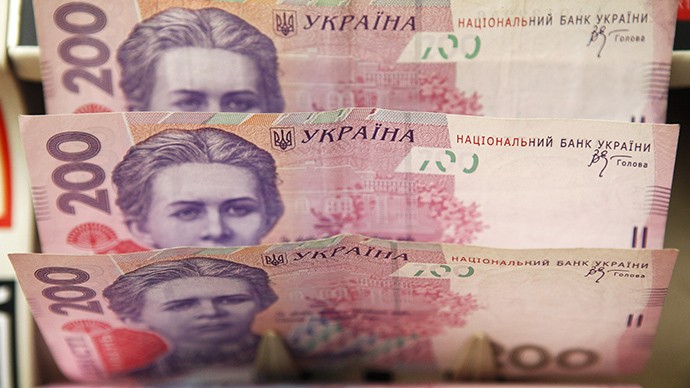 Political unrest and economic instability have forced Ukraine to take drastic measures to protect the fast-depreciating hryvnia. In November the Bank spent $800 million to 'save' the currency, sending foreign reserves to their lowest since 2006.
Forex reserves fell to $18.79 billion, the lowest since August 2006, when they stood at $18.73 billion, according to data released Friday by the Central Bank. At the end of October, Ukraine's international reserves had dropped to $20.6 billion, according to Bloomberg data.
The depreciation of the local currency has given rise to demand for cash and currency swaps, which has nearly quadrupled in the last week, reaching a record level of $2.6 billion.
The Central Bank has the hryvnia pegged at 8.0 to the US dollar, and the current inter-bank rate is set at 8.20, both are seen as highly unsustainable rates.
"Preserving the peg may not be an option available to the Central Bank for too much longer," Chris Weafer, senior partner at Moscow-based consulting firm Macro Advisory, said in an emailed note.
"A rate closer to 12.0 would seem much more appropriate for the economy today," said Weafer.
"The real demand for foreign cash is from the people and in qualitative terms is consumer driven, which means it can be triggered by speculation," says Marina Nesterovskaya, a director at Kiev-based Khreschatyk bank.
Investors worry a surge to get hold of foreign currency could lead to a government response similar to Cyprus, where authorities used capital controls to protect the currency, limiting movement across borders.
The Central Bank is not only intervening on behalf of the hryvnia, but is also tapping into reserves to pay the country's mounting debt, which is a major threat to financial stability.
The economy is on the brink of default, and has a total foreign debt of $140 billion, nearly 80 percent of gross domestic product. At least $30 billion is owned by Russian state banks.
Ukraine's economy is approximately $176 billion, and the population in Europe's second largest country by landmass is 45 million.
The Ukrainian economy is projected to contract 1.5 percent in 2013, year on year.
Looking for an ally
The debt situation has sent President Viktor Yanukovich on a mission to secure external financing to help fill a hole of up the $15 billion in maturing loans that are due.
He secured $8 billion from Chinese investors while in Beijing, and is still playing off the EU and Russia to receive more for his faltering economy.
The EU hasn't been able to offer much economic support to Ukraine, and Kiev hasn't been able to meet the requirements to secure a bailout loan from the International Monetary Fund. Talks broke down in August when a $10-15 billion loan was shelved following Ukraine's refusal to raise gas prices for domestic customers.
Russia hasn't announced a concrete aid proposal, even though Yanukovich and his counterpart Vladimir Putin have met a number of times.
"Moscow has a great headache with its own economy," said Alexander Valchyschen, an analyst at Investment Capital Ukraine. "Russia can't sell to domestic voters that it's bailing out Ukraine but not its own people."
You can share this story on social media: