Moscow court reduces jail term for Khodorkovsky, partner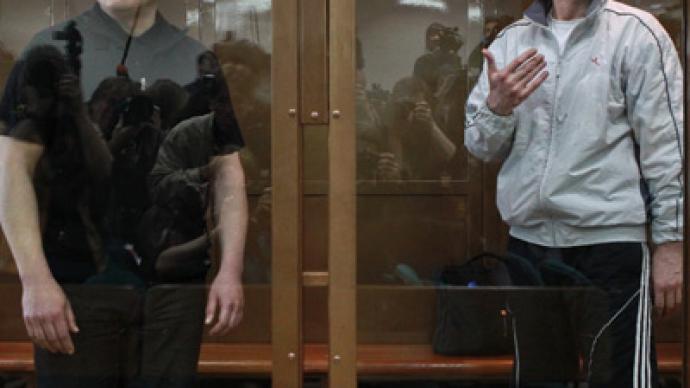 A Moscow court has reduced the sentences for imprisoned tycoons Mikhail Khodorkovky and Platon Lebedev from 13 years to 11 years, due to a change in Russia's criminal code. The two will be released in 2014.
Khodorkovsky, the former CEO of Russia's biggest oil producer YUKOS, was first imprisoned in 2003 on charges of tax evasion, along with his business partner Lebedev. The executives were then convicted of embezzlement and money laundering in 2010. The initial verdict sentenced them to imprisonment until 2017, but was later cut by a year.Russia has recently softened its penal code for financial crimes, as hundreds of thousands of businessmen are believed to be serving jail terms. Money laundering was cut from the register of especially grave crimes.The defense argued that according to the new laws, the two had already served their terms. The lawyers also appealed against the ruling of a 2010 trial, in which the two men were convicted of embezzling more than $200 million.The court dismissed the defense's appeal to drop the second sentence for both men or release them on time served. It did strike off $80 million dollars from the total they were accused of money laundering."We are going to carry on the fight we have fought all these years, and we will appeal to the Supreme Court," said Khodorkovsky's lawyer Vadim Klyugvant."We will ask them to reverse the trumped-up charges of the second court case [in 2010]. We also believe today's decision did not comply with liberalization of financial crime legislation."Earlier on Thursday, prosecutor Vladimir Vedernikov asked the court to reduce the jail terms for Khodorkovsky and Lebedev to 11 years and three months. The judge agreed to cut their sentences by a further three months, to 11 years.Lebedev will be released in August 2014, and Khodorkovsky in October 2014.The two are currently serving their terms in separate penal colonies in remote northern provinces.
You can share this story on social media: