Khodorkovsky case to get independent assessment
Published time: 9 Aug, 2012 10:47
Edited time: 9 Aug, 2012 17:22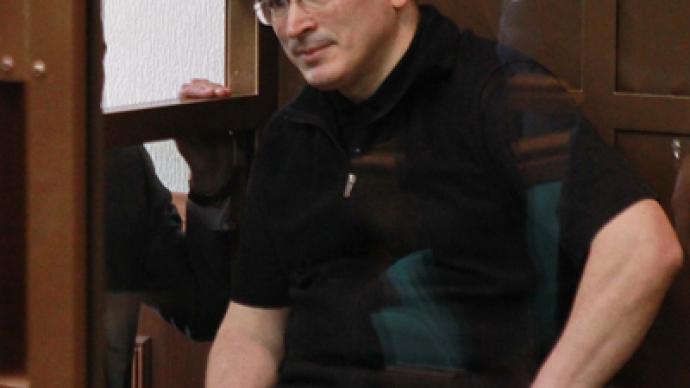 Jailed former Yukos CEO, Mikhail Khodorkovsky has passed documents on the second case against his company for an expert review by the for Business Without Corruption Center public procedures unit.
The move followed a recommendation given by Russian Ombudsman for Entrepreneurs Rights Boris Titov.
Earlier, Khodorkovsky applied to the ombudsman with a letter.
"I ask you to conduct an inquiry into the verdict of the Khamovnichesky Court of 27.12.2010 (with the changes introduced by the cassation ruling of the Moscow City Court of 24.05.2011), issue a determination about its soundness from the legal and economic points of view, and, based on the results, undertake those steps that you deem necessary and possible," the letter read, as cited by Khodorkovsky.com website.
The businessman noted he was "extremely skeptical" about Titov's independence from the power base. However, he pointed out, it is useful for entrepreneurs to know "what risks they are taking when they rely on Russian 'justice', how the ombudsman can realistically help them, and the main thing: what your view of the existing practice of the 'application of the law' is".
In response, Titov suggested that Khodorkovsky officially apply to the Business Without Corruption Center.
"Despite the skepticism that was expressed by you in advance, I am building my work as the RF Presidential Commissioner for Entrepreneur's Rights on the basis of a specifically independent inquiry, conducted by public institutions created by the entrepreneurial community," Titov stressed.
The ombudsman also noted that the center has already processed applications from over 160 business people and "many have been rendered legal support and real assistance."
The institution was set up by the Ministry of Economic Development with the support of the government.
On Wednesday afternoon, Khodorkovsky's lawyer Denis Dyatlev handed a file of documents regarding the second case against his client to the ombudsman's adviser, Tatiana Marchenko, writes Interfax. She said the papers would be forwarded to the center on Thursday.
Another lawyer for the jailed businessman, Vadim Klyuvgant, stressed on Thursday that Khodorkovsky's letter was addressed personally to Titov, rather than to the center. It was the ombudsman's staff's decision to forward the appeal to Business Without Corruption, he told Interfax.
Once the richest man in Russia, Khodorkovsky – along with his business partner Platon Lebedev – was sentenced to 13 years behind bars for oil theft and money laundering. However, earlier this week, a court cut the jail term for Lebedev by 40 months, which means he could be released from prison in March next year.