To the slammer only in good company – Putin
Published time: 4 Jun, 2012 11:37
Edited time: 4 Jun, 2012 15:57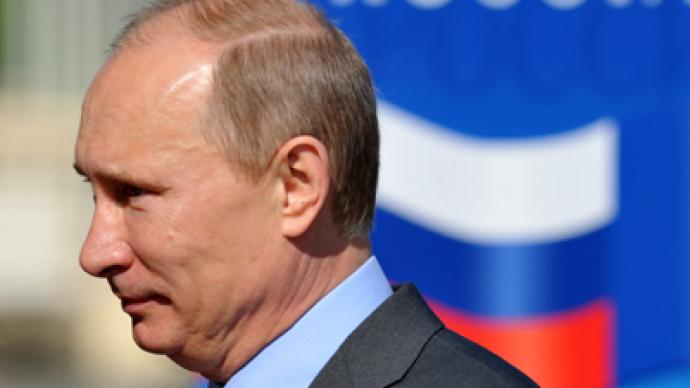 During a wrap-up media conference at the Russia-EU summit, President Vladimir Putin has commented on an anonymous opposition leaflet demanding that he be sent to jail.
One of the journalists at the St. Petersburg event quoted the flier about "political prisoners" in Russia. Such leaflets, he said, had been distributed at the hotel where reporters had been staying. Among other things, it said Putin should be sent to prison.
"Regarding the so-called 'political prisoners.' Wherever I go, I'm asked the same question, about the fate of Mr. Khodorkovsky," Putin noted."As you know, the European Court of Human Rights confirmed that there were no political motives in Khodorkovsky's case and verdict," he pointed out.
"So, even if this means going to prison – at least it's in good company," Putin added, jokingly.
Mikhail Khodorkovsky's lawyer Vadim Klyuvgant states that the European Court of Human Rights has only announced a decision concerning his client's arrest in 2003 and the conditions he was subsequently kept in, Interfax says.
Former Yukos CEO Khodorkovsky is serving a jail sentence for money-laundering and oil theft in a second case against him.

Concerning other cases of "political prisoners," he said a list of names should be provided.
The president also pointed out that violators of rules on holding mass rallies in Russia face administrative punishment such as fines or administrative arrest.
"As far as I know, currently all [protesters] are free – apparently, getting ready for new protest rallies. This is normal," Putin told journalists.
"What we should do though is bring into our legislation the norms of European law used in many European countries for regulating such events. Of course, they are democratic, but, at the same time, offer a basis for holding mass rallies," the President added.
Putin admitted that he "felt some liking" for the authors of the leaflet. However, he expressed bewilderment about the way they had chosen to voice their stance.
The president noted that Russia has recently adopted a new law on political parties that significantly liberalizes their registration. Now a group of only 500 allies can establish their own political party, bring candidates to regional parliaments and federal legislative bodies and there state their position openly "and fight for the ideals they believe to be correct," Putin said.