War-weary KFC quits Syria
Published time: 6 Nov, 2013 15:47
Edited time: 6 Nov, 2013 17:07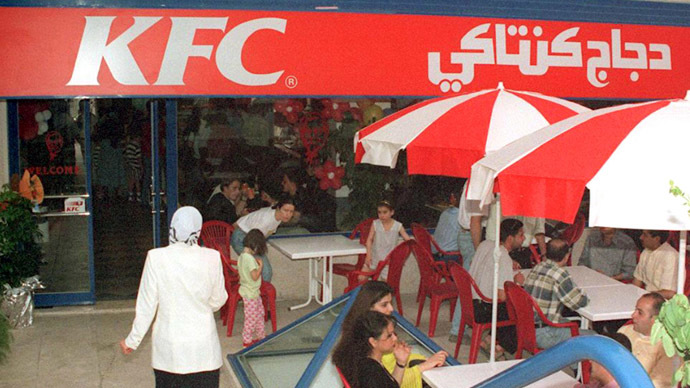 US fast food restaurant KFC has shut its last remaining restaurant in Syria, citing economic supply problems and a lack of chickens caused by the country's 2 1/2-year bitter civil war.
"Closed. Please leave your number if you are interested in buying this establishment," said a sign posted on the restaurant in the upmarket Abu Rummaneh, according to AFP's Wednesday report.
The restaurant in Damascus neighborhood was the last of seven KFCs in Syria to close down.
A local businessman told the agency that the franchise was "facing multiple problems" and was struggling to get hold of supplies.
Crucially, it couldn't get hold of enough chickens, as poultry production has halved since the start of the civil war in 2011. They tried importing them from Lebanon, but had to stop due to violence on the roads and the high price of diesel for trucks.
Sanctions and the ongoing violence have caused the value of the Syrian pound to plunge, meaning that a KFC meal is now too expensive for the vast majority of Syrians, for whom the struggle for survival is now the main focus.
Der Spiegel reported that Ibrahim Khalil survived the chemical weapons attack on the 21 August, only to die of starvation 10 days later.
About 4.4 million Syrians are living in extreme poverty and half of the country is unemployed. Meanwhile as the economy hits the skids, smugglers, criminals and racketeers profit and have created their own monopolies selling food and medicines.
The KFC franchise in Damascus, which is operated by the Americana Group, was closed last month, the Jewish Press reported.
Some 450 KFC restaurants operate across the Middle East, in Egypt, Jordan and Lebanon and 100 outlets in the United Arab Emirates.