US & Russia swap recriminations as Syria peace talks stagnate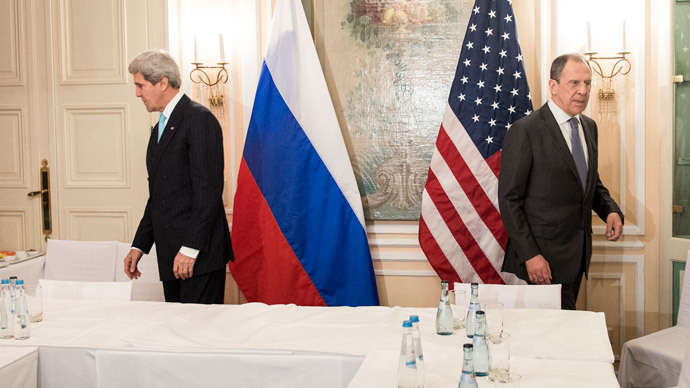 US Secretary of State John Kerry accused Damascus of inviting terrorism on itself, while Russian foreign minister, Sergey Lavrov, accused the West on placing "bets on a military scenario," following the stalling of the Geneva peace conference.
Kerry arrived in Abu Dhabi on Monday to hold wide-ranging talks on the Syrian civil war, nuclear negotiations with Iran and the Middle East peace process.

Kerry had choice words not only for Syria, but also for Iran and Russia, which he accused of allowing the government of President Bashar Assad to "double down" on military solutions to the conflict.
"It is very clear that Bashar Assad is trying to win this on the battlefield instead of coming to the negotiating table in good faith," AP cites Kerry as saying.

He said Assad's team had "refused to open up one moment of discussion" of a transitional government, in part because Moscow had emboldened Syria to keep fighting.
"Russia needs to be a part of the solution and not be contributing so many more weapons and so much more aid that they are in fact enabling Assad to double down, which is creating an enormous problem," he said.
But Russian Foreign Minister Sergey Lavrov delivered a brisk retort.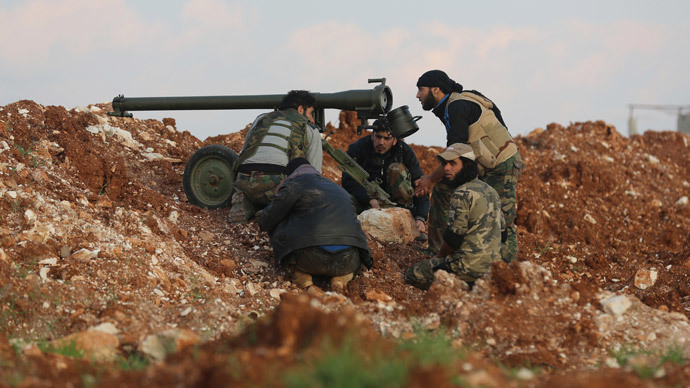 "We are constantly being told to do more to help the peace process," the official said at a Moscow press conference.
"But, there are a few factors to consider. The opposition is divided. It was an unspoken arrangement that the US would try to bring the opposition to the table. What do we get instead? Before the talks, the Syrian National Coalition (SNC) loses its backbone, the Syrian National Council, and the Syrian Muslim Brotherhood. So these are two major parties, plus all the ones that were never in the coalition."
"Instead there is news that those non-represented organizations are banding together into a new group to replace the SNC. In other words, a course is being set to move away from the negotiations track and once again place bets on a military scenario," said Lavrov.
The Russian Foreign Ministry took a more diplomatic line, saying forces attempting to mediate the conflict should not lay the blame squarely on Assad's shoulders.
The ministry further said that the United Nations and Arab League Special Envoy to Syria, Lakhdar Brahimi, "should not stray towards unilateral accusations and blame only one side for the stalled dialogue."
Russia has told the US it is committed to helping create a transitional government, saying the Syrian government should be recognized for its "positive intent" after a second round of peace talks concluded in Geneva on Saturday.
The ministry also said that Damascus was completely justified in making terrorism a top priority, although Kerry said on Monday that "Assad himself is a magnet for terrorists," accusing him of pursuing "state-sanctioned terror against his own people."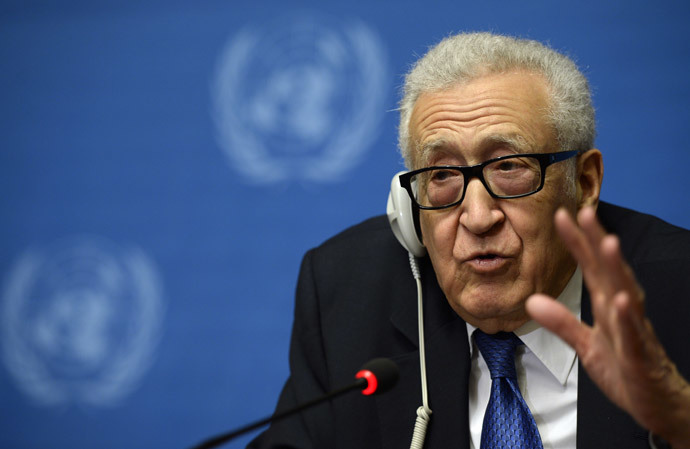 Following the talks, Brahimi said he had suggested starting the next round of negotiations with one day of discussion on each issue. He said Damascus, however, only wanted to talk about the issue of terrorism, and not about forming a transitional governing body.
"
Unfortunately the government has refused, which raises the suspicion of the opposition that, in fact, the government doesn't want to discuss the (transitional governing body) at all
," he said.
On Sunday, Syrian Foreign Minister Walid al-Moallem blamed the US for the stall in negotiations, saying Washington attempted to "create a very negative climate for dialogue in Geneva."

Meanwhile, Washington and its NATO and Persian Gulf allies are backing the opposition in Syria's conflict with both financial and material support while negotiations go ahead.
In the wake of the most recent diplomatic deadlock, Saudi Arabia reportedly offered to ramp up its military support to rebel fighters, providing them with anti-aircraft missiles.
The US Congress for its part has also reportedly authorized sending small arms, an assorted variety of rockets, and financial backing to moderate rebel forces.
Despite efforts to ramp up military and financial support to the Syrian rebels, Kerry said on Monday the Syrian Civil war could only be ended through diplomacy.
"The international community needs to use this recess in the Geneva talks to determine how to use this time most effectively in order to bring about a political solution. We still believe there is no military solution."
You can share this story on social media: