Karzai: Taliban leader can run for the Afghan presidency in 2014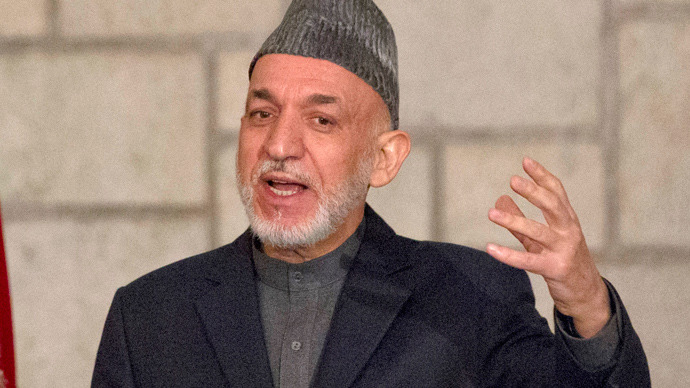 Afghan President Hamid Karzai has not ruled out that the Taliban's leader in the country may bid for the presidency in 2014 elections. The President has called on the Islamists to lay down arms and participate in the political process.
Taliban leader Mullah Omar could be a 2014 presidential candidate and "give the Afghans the opportunity to vote for him or against him," President Karzai said in the interview to German daily newspaper Sueddeutsche Zeitung.
He noted that the Afghan constitution is valid for all Afghans and "the Taliban also should benefit from it."
Next year is a turning point for Afghanistan, with NATO pulling out its combat troops by the end of Karzai's term, after which a new government to be chosen.  The opposition suspects Karzai will go beyond his constitutional remit and try to stay in office, but the president denies the claim saying that after elections he "will be ex-president".
One of the Karzai's principal goals, in order to secure stability after NATO troops leave, is to reach a peace agreement with Taliban.
Karzai has regularly called on the Taliban to come to the negotiating table.
For now, Karzai says that his government has "sporadic contacts" with the Islamists, but there are no negotiations.
The Taliban has been insisting they will not deal with Karzai calling him a  "US puppet."
Over the weekend Karzai visited the Qatari capital, Doha to discuss the opening of a Taliban office in the Gulf state, where a team of Taliban envoys and their families have set up base since 2011.
Karzai's government did not receive a warm welcome at the meeting. It.s rumored the Taliban will be allowed to open an office in Qatar if the group breaks all ties with al-Qaida and renounces terrorism.
"The Taliban peace process, when it is officially announced, the opportunities will multiply hugely," the Guardian quoted Afghanistan's President as saying.
President Karzai initially denounced the idea of a Taliban office in Qatar. 
Back then the Afghan government openly said it would prefer Turkey or Saudi Arabia as a mediator, fearing that the Gulf state would lend the movement international recognition and hamper ties with the US.
The Taliban having an office in Doha has been seen by diplomats as neutral ground for potential negotiations and "the single biggest step forward for peace efforts".
Some experts believe that any such prospect involving the Taliban, after a decade-long occupation meant to curb its influence, has money at its core. RT contributor and journalist Afshin Rattansi said, "We mustn't forget, the Taliban were in Texas in 1997, a few years before 9/11, talking about a Caspian oil pipeline deal. So perhaps the Americans are in there too, because Hamid Karzai feels some degree of American support - certainly Washington's wink and nod that the Taliban has an office in Qatar at all."

You can share this story on social media: