Suicide blast near Afghan Defense Ministry amid Hagel visit, 9 civilians dead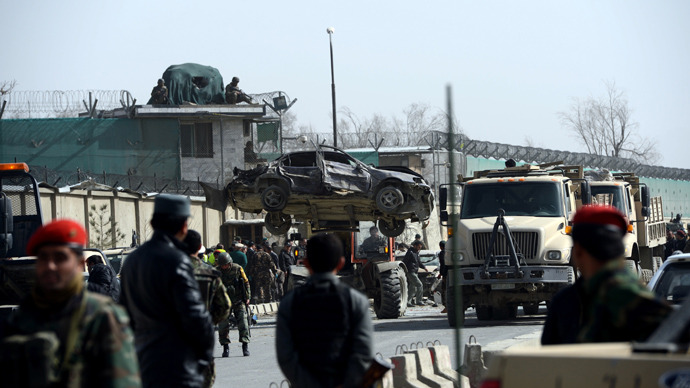 A suicide bomber blew himself up outside the gates of Afghan's Defense Ministry in Kabul, killing at least nine civilians. It was followed by another bombing in the country's east that left eight children and a policeman dead.
Both attacks come amid the backdrop of a visit by US Defense Secretary Chuck Hagel.
In the Kabul bombing, the attacker was on a bicycle as he triggered the blast near 9am local time (04:30 GMT), AP quoted Afghan police spokesman Hashmat Stanekzai as saying.
The Taliban claimed responsibility for the suicide bombing, stating that it was a "message" for Hagel and that the Defense Ministry was the target.
"A suicide attacker has detonated himself within 30 meters [100 feet] of the Defense Ministry gate, there have been casualties among civilians," spokesman for the Afghan National Army, Zahir Azimi, told AFP.
Explosion was followed by gunfire and sirens, reported Reuters.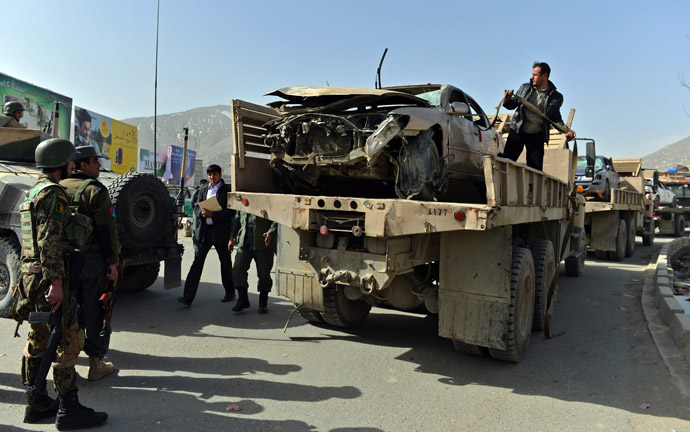 Afghan policeman sacrifices life to minimize a bomb's impact
Hours later, a suicide bomber blew himself up in the eastern Afghan city of Khost, leaving eight children aged between 7 and 17, and one police officer, Murad Khan, dead.
Two other children were wounded in the blast. The police officer died when he grabbed the insurgent in an attempt to absorb most of the blast, Khost deputy police chief Mohammad Yaqub Mandozay said.
According to the police, the bomber attempted to enter a village when coalition forces were conducting training exercises with Afghan police when officers at a checkpoint recognized his explosive vest.
Afghan security officials and troops were the targets of the bombing, AFP reported.
The two attacks happened shortly after US Defense Secretary Chuck Hagel arrived in Afghanistan for an official visit.
He was reported to be far away from the blast at a safe International Security Assistance Force (ISAF) location.
However, reporters travelling with him were in a briefing at the Defense Ministry when they heard the explosion and were then moved to the lower floor of the building.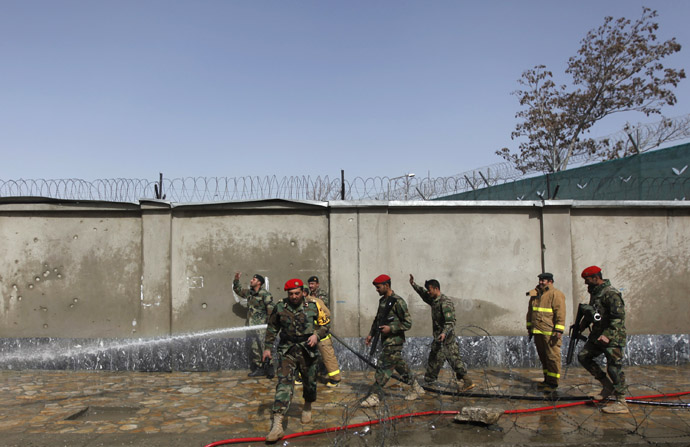 Hagel was scheduled to meet US commanders and Afghan President Hamid Karzai. His trip was to analyze the war in Afghanistan and "better understand what is going on", he told reporters last week.
"The Taliban wanted to send a clear double message to the US and the local authorities with the attack," political analyst Habib Hakim told RT.
"Firstly, that even with security measures in place they can still launch this kind of attack in Kabul itself. And secondly, they are showing that they are not ready to negotiate with the government or the NATO forces in the country."
As the war enters its final stretch, the number of international troops that will remain past 2014 is still unknown.
Currently, there are around 66,000 US military personal in Afghanistan and it is anticipated that number will drop to 34,000 in early 2014.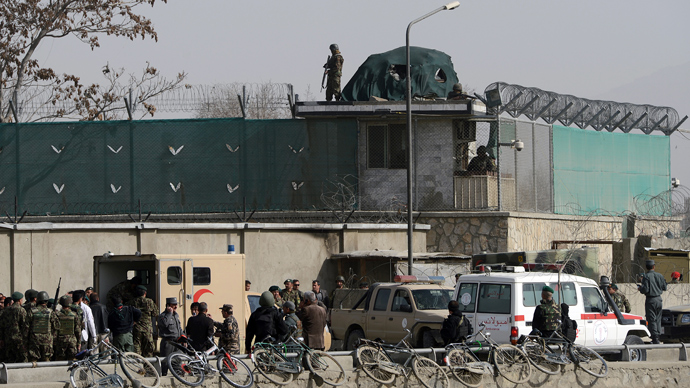 You can share this story on social media: