US leaving Afghanistan unfit to defend itself or spend aid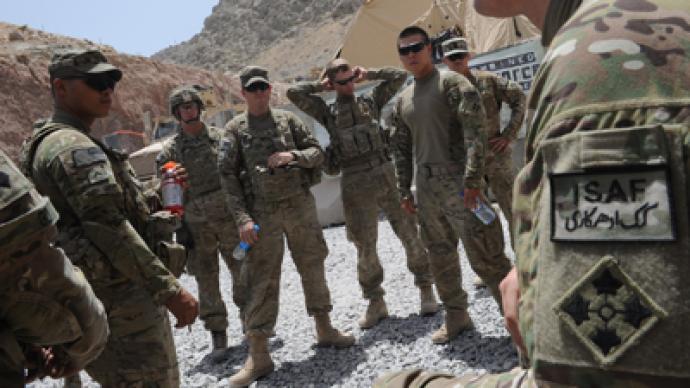 The Afghan government cannot process billions of dollars in aid from the US and its allies, a US-based reconstruction watchdog said. Washington still plans to transfer more responsibility to Kabul, and will halve its troop levels over the next year.
After a decade of Western military occupation, Afghanistan remains one of the world's poorest and most corrupt countries. The US pays for the bulk of the country's civilian and security budget. However, that money is apparently being spent inefficiently.Kabul "does not appear to have the capacity to manage the amount of funding envisioned in the international community's pledges of direct assistance," said John Sopko, the Special Inspector General for Afghan Reconstruction (SIGAR).Sopko said in written testimony to the House Oversight and Government Reform committee that graft continues to be a major problem in the Afghan government. This casts doubts over Washington's commitment to channel at least half of its development aid directly through Afghanistan's national budget, rather than through contractors and NGOs operating on America's behalf."Despite stated commitments from the Afghan government to address this problem, we continue to see reluctance on the part of Afghan officials to take serious action," Sopko said.The Obama Administration is expected to spend almost $30 billion on Afghan reconstruction in 2013 – it requested  $9.66 billion from Congress this year, while $20 billion more is left over from previous allocations, according to SIGAR officials. The US has invested almost $100 billion in the Afghan reconstruction effort so far.Sopko also complained that the ongoing withdrawal of coalition forces leaves increasingly larger parts of Afghanistan "too dangerous for SIGAR or other agencies to visit" and oversee aid spending.The skeptical voice comes as White House confirmed its roadmap for the withdrawal of troops from Afghanistan. In his Tuesday State of the Union address, President Obama announced that over the next year, 34,000 troops – more than a half of the 66,000 currently deployed – will return home from Afghanistan.
"We're negotiating an agreement with the Afghan government that focuses on two missions – training and equipping Afghan forces so that the country does not again slip into chaos, and counter-terrorism efforts that allow us to pursue the remnants of al-Qaeda and their affiliates," Obama said.The entire situation in Afghanistan is "extremely unstable," anti-war activist Eugene Puryear told RT."Saying that he won't allow chaos to return is a rhetorical device by President Obama to mitigate, in a sort to whitewash the history of what's been going on there during his presidency and the presidency of George W. Bush."Obama's pledge to continue pursuing counter-terrorist options in Afghanistan, Puryear believes, means "they will continue drone strikes, continue special forces strikes, continue conflict – the essentially puppet government – the Karzai government will continue with US and international funds to push the fight against those they view as their enemies and significant amounts of uncertainty and turmoil in the country."The announcement came as no surprise, although the president did not elaborate on the number or troops that will stay in Afghanistan after 2014, an issue that remains a subject of debate between the Pentagon and Obama's civilian advisors.The military want as many as 10,000 soldiers to remain in the country, and say they doubt the ability of Afghan security forces to take over. This is especially true with Taliban announcing that 2013 will be a year of intensive fighting in Afghanistan."What really hangs in the balance now is the confidence level of the Afghan security forces and its people in them," said General Martin Dempsey, chair of the Joint Chiefs of Staff, USA Today reported.Some White House staffers have advocated a much smaller long-term presence, with a compromise number expected to be about 8,000, according to US officials.By the end of 2016, the US may leave as few as 3,500 to 6,000 troops in Afghanistan. More radical drawdown proposal put that number even lower – 1,000 people stationed in the enormous US embassy in Kabul, with commando teams flown in from ships and bases in other countries as needed.Advocates of the smaller force have claimed it would encourage Kabul to put more effort into turning its troubled military into a viable force that can deal with Taliban militants on its own."We need to ensure that our presence there doesn't act as a crutch," a senior Obama administration official from this camp told Washington Post. "The Afghans have to recognize that this is their moment to step up and take more responsibility. If they can't do everything we want them to do, that's fine. They need to figure out their own way of fighting."But at the same time, the White House wants to scale down Afghanistan's security forces from the current 352,000 to 230,000 by 2017. Washington spends about $4.1 billion annually on maintaining Afghan troops. This plan was met with frowns by some US generals, including the outgoing coalition commander in Kabul, General John R. Allen, and his successor General Joseph F. Dunford Jr.
You can share this story on social media: