St Jude storm hits Russia after devastating parts of Europe
Published time: 29 Oct, 2013 16:02
Edited time: 29 Oct, 2013 16:46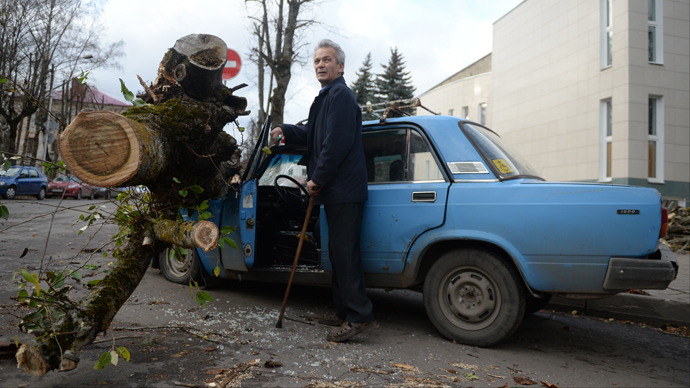 The deadly St Jude storm is making its way across north-western Russia, toppling roofs, uprooting trees, leaving tens of thousands residents without electricity and putting the historic city of St Petersburg under threat of flooding.
As the powerful Atlantic storm reached Russia's northern capital of St Petersburg, authorities activated city flood protection systems.
Earlier on Tuesday, the water level in the Neva River was rapidly increasing, rising 25 cm at the St. Petersburg's Mining Institute gauging station within just half an hour between 3pm and 3:30pm local time. However, by 4.30 pm it decreased again by 17 cm, reports the Emergencies Ministry. 
Meanwhile, according to eyewitnesses' posts on social networking services, hurricane-force winds ripped roofs off several buildings, brought down trees, and caused damage to vehicles.
A man has been hospitalized with injuries after a billboard fell on a shuttle bus, reports RIA Novosti, citing a source within St Petersburg's traffic police. 
The city police have tightened security in four St Pete districts which have experienced power cuts.
Raging winds have caused blackouts in hundreds of towns and villages in the Leningrad Region and neighboring Vologda and Novgorod Region, leaving tens of thousands people without eclectic power.  After abating slightly, the storm resurged again in the afternoon, forcing technicians to come back to areas where they had sorted out problems with power supplies earlier in the day.
"The reparation works are complicated by bad weather conditions, with winds reaching speeds of 26 m/s," the Lenenergo electricity distribution company told Itar-Tass.
St Pete's Flood Protection Barrier – a massive 25-kilometer complex of dams built on the Neva Bay - has helped to prevent the city from its 312th flooding since its founding in 1703, the organization's press service reported on Tuesday. Called the Northern Venice, the city is often threatened by floods since major part of its territory is located near sea level.
Meanwhile, northern Europe is coping with the aftermath of the hurricane. Before crossing into Russia, the deadly storm swept through the UK, the Netherlands, Germany and France. One of the worst in decades, the storm has claimed at least 15 victims. Tens of thousands people were without power in Sweden, Denmark, Estonia and Latvia.
Media dubbed the windstorm St Jude after the patron saint of lost causes, whose feast day was celebrated on Monday, the day when the storm was expected to reach its height.
Всё серьёзно. Святой Иуда будет карать #СПбpic.twitter.com/y4mIb3AvIJ

— Вестник Петербурга (@NovostiSPb) October 29, 2013