Central Europe on high alert amid worst-in-decade flooding (PHOTOS)
Floods raging across central Europe have killed nine people and left several missing, while 7,000 residents have been evacuated in the Czech Republic. No respite is in sight, with more heavy rains expected later this week.
Six people died in the Czech Republic from what appears to be the worst flooding in a decade, and Prague declared a state of emergency after the Vltava River reached its highest flood alert level. Eight metro stations have been shut down, and the Prague Zoo has ordered the evacuation of animals whose cages could be submerged. Prague's Charles Bridge, built in the 14th Century, was also closed.

Volunteers built sandbag walls in the Czech capital to hold back the banks of the swollen river from overwhelming the historic city center, a UN World Heritage Site.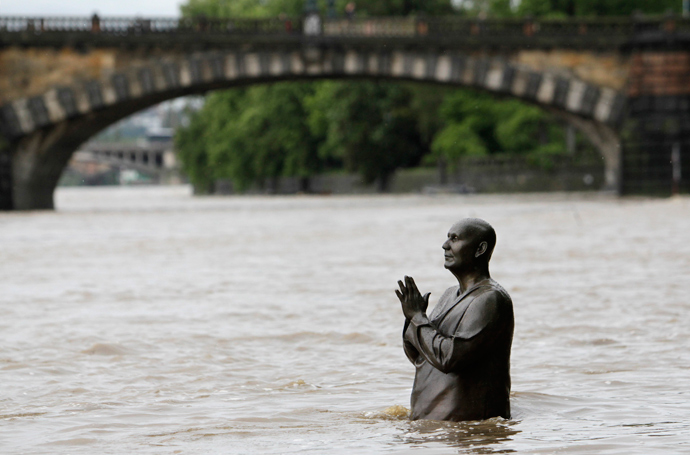 The Vltava River is currently flowing through Prague at a volume of 3,000 cubic meters of water per second, while the norm is only 149 cubic meters per second. The river's safety barriers can hold back a maximum of 3,250 cubic meters per second.

According to CTK news agency, flooding in the Czech capital may peak on Tuesday. "The story is not yet over here," Environment Minister Tomas Chalupa said.

On Monday, Prague's sewage treatment plant was closed to prevent damage from the high water, meaning the capital's sewage is currently being dumped directly into the river. The plant will likely reopen on Tuesday or Wednesday.

Central Europe last saw similar floods in 2002, when 17 people died in the Czech Republic, causing an estimated $26 billion in damage, Reuters reported.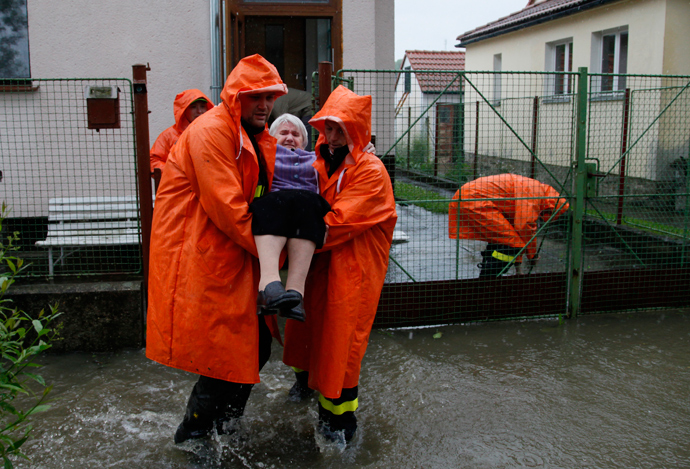 The flooding, which comes after several days of torrential rainfall, has also affected parts of Germany, Slovakia, Hungary and Poland. In Austria, two have died and another two have gone missing. In some areas, two months' worth of rain fell in just a couple days.

Swollen rivers gushed into the old section of Passau in southeast Germany as waters rose to levels not seen in over five centuries, according to German news agency DPA, which reported that the water levels were the highest recorded in Passau since 1501. ''The situation is extremely dramatic,'' Herbert Zillinger, a spokesperson for Passau's crisis center told AP.

Electricity has been shut down as a precaution as rescue teams are use boats to evacuate residents from flooded parts of the city. Authorities evacuated a prison in danger of flooding, moving 60 inmates to two other nearby facilities.
 
The German army has deployed 1,760 soldiers in the south and east of the country to help local authorities reinforce flood defenses. Volkswagen shut down a plant in Zwickau, in the eastern German state of Saxony, after flooding made it impossible for workers to reach the factory.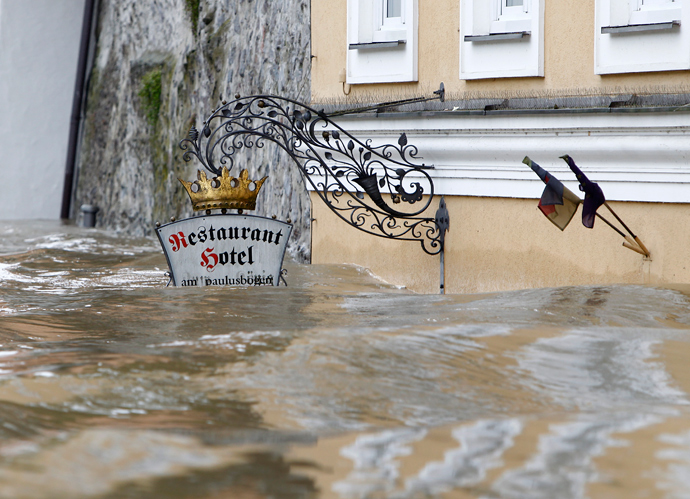 Some of the worst flooding was seen around the Danube River, Europe's second-longest after Russia's Volga River. The Danube originates in the German town of Donaueschingen, and passes through four European countries – Austria, Slovakia and Hungary – before it empties into the Black Sea. German Chancellor Angela Merkel will visit flood-hit areas on Tuesday.

In the Austrian city of Salzburg, some 160 train passengers were put up overnight in army barracks after being stranded by heavy floods.

Meteorologists fear the flooding could follow the course of the Danube River down to other European countries along its route.

Flood barriers have also been erected along the banks of the Danube River where it passes through Bratislava, the capital of Slovakia. "We are getting bad news from Germany and Austria. We have to do all we can to protect... the capital," Slovak Prime Minister Robert Fico said.

Gyorgy Bakondi, the head of the Hungarian National Disaster Authority, told local media that water levels in the Danube River could exceed 2002's worst-ever record, and that 400 people are currently working on flood defenses.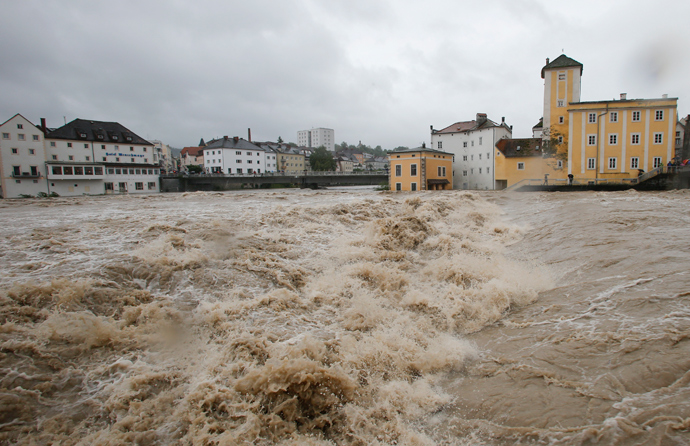 You can share this story on social media: