Poisoning Japanese food: Contract worker arrested after 6 mn products recalled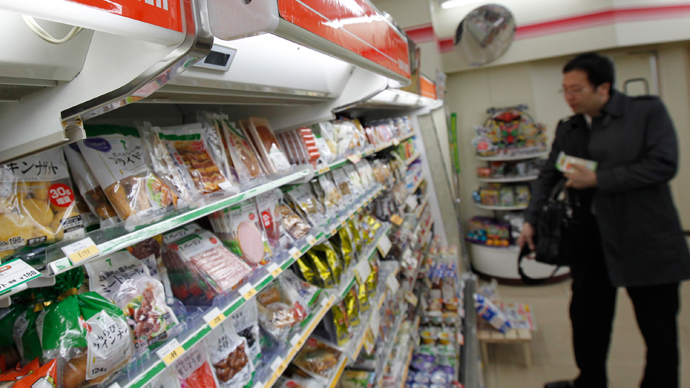 Japanese police have arrested Toshiki Abe, a factory worker, over suspicions that he poisoned frozen foods with pesticides, causing more than 2,800 people to fall ill across the country.
Abe, 49, is the employee of a frozen food factory in Gunma north of Tokyo, which is run by Aqli Foods, according to Kyodo news agency. Aqli Foods is a subsidiary of Japan's largest seafood firm, Maruha Nichiro Holdings.
Abe denies the allegations, but has not explained why he was missing for 10 days before his arrest, police said.
At least 2,843 people nationwide have complained of illnesses after eating the suspect products – most displaying mild symptoms of vomiting, diarrhea, and cramps.
Aqli Foods received the first complaints in November, when a customer said one of its frozen pizzas smelled like engine oil.
However, the firm did not have a product recall until December 29, when the results of tests found traces of a chemical called malathion - used as a pesticide and to treat head lice - in packages of mixed pizza, chicken nuggets, gratin, and corn croquette.
Aqli Foods recalled over six million products, with 5.5 million packages recovered by January 21. The company said that none of the products in question have been shipped overseas.
Police were initially looking for a person responsible for mixing in the pesticide at the packing stage, as various products contained it. However, authorities later learnt that workers could easily move between different production lines.
Abe mainly worked on the pizza production line, where he kneaded and baked dough. He was working every day that the poisoned packages were produced. On January 10, police received an official report of damages from Aqli Foods and began a more thorough questioning of all the workers at the plant.
Suspicion landed on Abe when his family reported him missing on January 14. He was eventually found on January 24 in a parking lot in Saitama, a neighboring prefecture.
The man has been employed as a contractor at the plant since October 2005, meaning he must renew his work contract every six months and does not receive all the benefits given to regular workers.
Abe's neighbors said the man once complained that he was facing difficulties because of the low salary paid to contracted workers, according to Asahi Shimbun daily. However, the actual motive is still under investigation. Police suspect Abe of seeking to obstruct business operations at the plant by forcing a recall and shutdown.
Food safety standards are high in Japan and companies that fall short of public expectation can experience ensuing damage for years. The president of Maruha Nichiro Holdings, Toshio Kushiro, said he would take responsibility for the incident and has announced that he will resign at the end of March.
You can share this story on social media: