China bans American shellfish over high levels of arsenic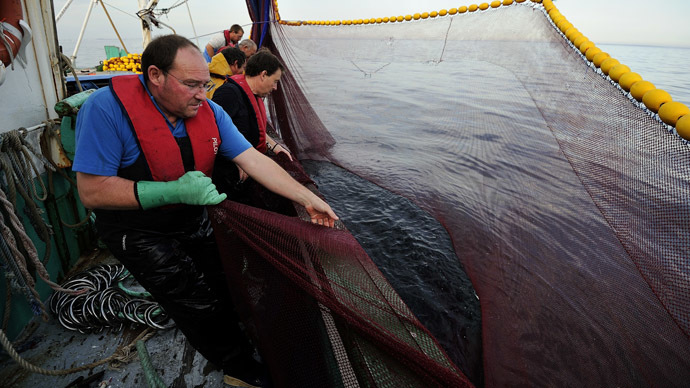 Officials in China have indefinitely banned the import of certain shellfish from the United States over concerns that geoduck clams, oysters and other double-shell aquatic animals are contaminated to the point that human consumption is unsafe.
Chinese officials ordered the ban on December 3 against exports from the states of Washington, Oregon, Alaska and the northern chunk of California, effectively putting a hold on a multi-million dollar West Coast industry that is now scrambling to make sure their shellfish is safe.
Recently shipped American exports, China claimed, contained dangerous levels of arsenic and paralytic shellfish poisoning, or PSP, which in high enough doses could kill a human being.
University of Washington public radio station KUOW was the first to report on the prohibition last week, and said China's decision stood to heavily jeopardize an area industry valued at roughly $270 million.
In 2012 the US exported around $68 million worth of geoduck clams — a type of deep-water shellfish that lives to be up to 100 years of age — mostly mined from the Puget Sound region of Washington, KUOW reported, and of that nearly 90 percent was shipped off to China.
"It's had an incredible impact," George Hill, a geoduck harvest coordinator for Puget Sound's Suquamish Tribe, said to the station with regards to the ban. "A couple thousand divers out of work right now," he said.
"They've never done anything like that," added Jerry Borchert of the Washington Department of Health, "where they would not allow shellfish from this entire area based on potentially two areas or maybe just one area."
KUOW first reported news of the ban last Thursday, and this Tuesday Borchert was telling The Olympian newspaper that he believes the geoducks in question came from Alaska and Puget Sound waters in Washington state. China has yet to verify that claim, but Borchert said he made the determination after checking information provided by authorities there and with the health certificates issued by the US National Oceanic and Atmospheric Administration.
Testing done there by Borchert's crew returned PSP toxin levels well below the standard US contamination threshold, he told The Olympian, and other reports indicate that toxicity levels in that area have been far from as dangerous as Chinese authorities insist.
"We've gone back and looked at all records — they show results way below any human-health concern," Washington State Department of Health spokesperson Donn Moyer told the Seattle Times. "We don't have any evidence or information whatsoever about any high levels of PSP in any shellfish."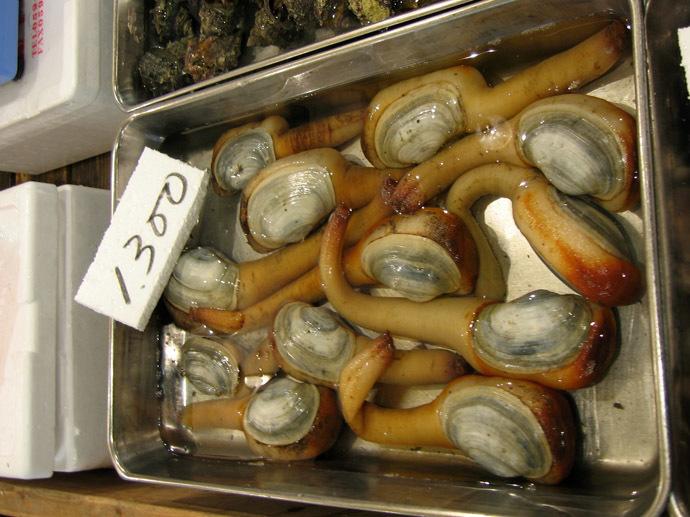 Others, such as Tony Forsman of Suquamish Seafoods in Washington, said that China may be working with guidelines drastically different than what US authorities use.
"The numbers I saw (that Chinese inspectors used) are just plain ridiculous," he told the Times.
A human can die from PSP if they eat shellfish that's too highly contaminated with dinoflagellate algae, a small single-celled organism that swims ocean waters and at times produces harmful toxins.
"Some of these toxins are 1,000 times more potent than cyanide, and toxin levels contained in a single shellfish can be fatal to human," the Alaska Division of Public Health warns on a PSP fact sheet published online.
But while China claims the PSP levels of the geoducks they tested ranged from 600 to 1,500 micrograms per 100 grams of tissue, Borchert told The Olympian that the latest round of testing done by the state returned results within 38 to 62 micrograms per 100 grams of tissue. Borchert said the exports came from a Department of Natural Resources-controlled tract that would be shut down if samples ever reached 80 micrograms per 100 grams of tissue — the federal threshold agreed upon by the US Food and Drug Administration and Environmental Protection Agency.
According to a an email posted online purported to have originated from NOAA Seafood Inspector Eric Staiger, the maximum amount of PSP contamination that China will tolerate is around half of the threshold set in place by the FDA: 30.2 micrograms per 100 grams of tissue.
Information regarding the alleged arsenic level discovered by Chinese regulators was not immediately available, but the supposed Staiger email suggests it exceeded that nation's limit of 0. 5millgram per kilogram of tissue. The NOAA inspector did not immediately respond to RT's request to authenticate the email and information contained therein.
Washington Governor Jay Inslee and Commissioner of Public Lands Peter Goldmark wrote to the heads of the Food and Drug Administration and the NOAA on Friday, the Seattle Times reported, asking them to begin "direct interaction with the Chinese government" to learn more about the inspection method used there.
The Olympian reported on Tuesday this week that Washington state does not normally test geoducks for levels of arsenic, but a recent study suggests that residents of China are already prone to be poisoned by it. A report in an issue of the journal Science published earlier this year found that nearly 20 million people in China could be exposed to arsenic-contaminated water, which could in the long-term cause serious health risks, including various cancers.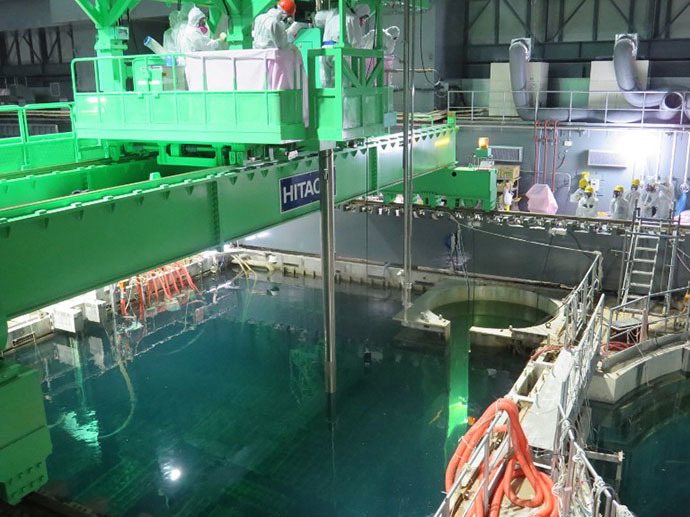 Concerns have since been raised, however, with regards to whether or not the 2011 Fukushima nuclear disaster in Japan could have caused increased levels of arsenic in animals harvested thousands of miles across the Pacific near the West Coast of the US. Previous reports have suggested that contaminated water and infected animals are en route to the US, and could soon transfer high levels of toxins to American shores. The Tokyo Electric Power Company, orTEPCO, said in 2011 that earlier reports that arsenic-74 had been leaking out of a building ravaged during that year's earthquake and tsunami were false.
"To date, FDA has no evidence that radionuclides from the Fukushima incident are present in the U.S. food supply at levels that would pose a public health concern," the American agency announced this past September.
Washington state's findings have been forwarded to two federal groups — the FDA and NOAA — for further analysis. In the meantime, seafood companies in the Pacific Northwest have reportedly begun scaling back operations and cutting hours for employees until the situation could be sorted out.
The latest ban from China come amid recent reports that the Far East nation has blocked a fifth cargo of US corn in only two months due to concerns that genetically-modified products are being exported to a country with much greater restrictions in place over GMO than in the States. Reuters reported last week that the latest cargo of around 59,100 tons of corn was refused by Chinese officials.
You can share this story on social media: