Treasure islands: Tensions heat up as Japan set to buy disputed isles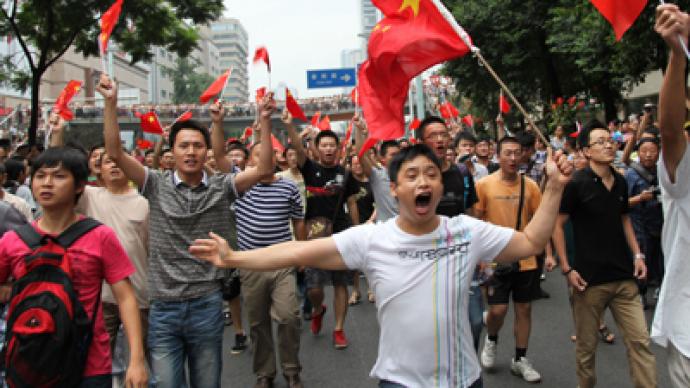 Japan has set itself on a collision course with China by announcing plans to purchase a group of disputed islands from their private owners in the South China Sea. But top Chinese officials vow the country will "never yield an inch" of land.
Chief Cabinet Secretary Osamu Fujimura said Japan will buy three of the uninhabited islands from a Japanese family it recognizes as the rightful owner, though China does not recognize their deed to the isles.
"This is just the ownership of land, which is part of Japan's territory, moving from one (private) owner to the state, and should not cause any problem with other countries," Reuters cites Fujimura as saying.
Saying the move to nationalize the islands is not meant to provoke China, but rather reflects Japan's desire to create a "stable and secure" environment, Fulimura said "we hope there will be no misunderstandings," he said.
"We do not want the the Senkaku issue to interfere with Sino-Japanese relations," continued.
The decision to purchase the islands followed a meeting of Cabinet ministers attended by Prime Minister Yoshihiko Noda. The Japanese PM is expected to approve the decision on Tuesday. Although no figure was officially released, the Japanese media speculated last week that the government might be willing to shell out $26.26 million for the islands.
A fishing boat with hoisted Japanese national flags, sails around a group of disputed islands known as Senkaku in Japan and Diaoyu in China in the East China Sea.(Reuters / Reuters Staff)
Fujimura's hopes for a peaceful transfer were ill-gotten, however, as Chinese Premier Wen Jiabao said China would
"never yield an inch"
of territory, state-run Xinhua news agency cited him as saying.
China's Foreign Ministry also shot back, saying Beijing would not "sit back and watch its territorial sovereignty violated."
Saying the move had "seriously hurt the feelings of 1.3 billion Chinese," the ministry warned "if Japan insists on going its own way, it will bear all the serious consequences that follow."
Known as the Senkaku in Japan and Diaoyu in China, the uninhabited but resource-rich islands are coveted by the world's second and third largest economies as well as Taiwan. The islands strategic importance rests in their proximity to strategic fishing lanes, offering access to rich fishing grounds, and potentially large maritime gas fields and oil deposits.
Saying the islands were"uninhabited "with no sign of ever being "under the control of China," in 1895 the government of Japan officially incorporated the islands into Japanese territory.
Japan gave up control of the islands (as well as Taiwan and several other territories) following the Second World War, at which time they were put under US administrative control. In 1972 the US returned the islands to Japan, though by that time possession of the isles was an entirely different matter.
Following a 1968 study which revealed that oil reserves are located under the sea in close proximity to the small archipelago, China and Taiwan's own territorial claims were reawakened.
China dates its authority over the islands back to the 14th century, while Taiwan, which is some 76 miles from the island cluster, also claims the isles as their own.
In 2010, a serious diplomatic row was sparked when a Chinese fishing boat collided with two Japanese coast guard vessels near the islands. The fishing boat captain was arrested and later released following a series of small anti-Japanese protests throughout China.
In April, the nationalist governor of Tokyo announced his hope that his city would acquire the islands. Earlier this month, Tokyo sent a team of experts to waters around the islands to survey fishing grounds and possible sites for development, inviting further ire by China.
On the sidelines of the Asia-Pacific Economic Cooperation (APEC) summit recently held in Russia's Far East, Chinese President Hu Jintao had reportedly told Prime Minister Noda that buying the islands was "illegal and invalid".