Japanese PM visits Russia to build 'personal confidence-based relations'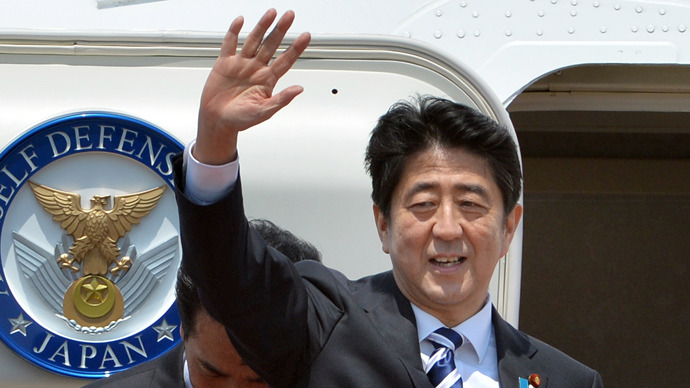 The Japanese Prime Minister will visit Moscow for the first time in a decade. Shinzo Abe pledged to reset ties with Russia, end a stalemate in bilateral relations, gain momentum in economic cooperation and finally enact a World War II peace treaty.
Abe will visit Moscow at the behest of Russian President Vladimir Putin on a trip that will last until May 30. "I would like to build a trusted personal relationship with President Putin," Abe told reporters at a media briefing at Haneda Airport in Tokyo.
"The talks will mainly focus on prospects for further promotion of Russian-Japanese trade, economic, investment and energy cooperation," the PM's press service said.

A considerable number of governmental agreements and business documents relating trade, investment and economic cooperation, inter-regional contacts, agreements in medicine, culture and sports will be signed, Kremlin's press service said.
Putin and Abe have held a number of personal meetings in the past, meeting several times during Abe's previous premiership in 2006 and 2007, on the sidelines of the APEC summits in Hanoi and Sydney and the G8 summit in Hailigendamm.
The last time the two communicated directly was in a telephone conversation last year. The foreign ministers of Russia and Japan met four times in 2012.
Abe's 'economic diplomacy'
Abe expressed hopes that his visit to Moscow will mark "the first stage of economic diplomacy" that would make economic cooperation the centerpiece of bilateral relations.
Relations between the two countries remains tense due to a territorial dispute between Russia and Japan over Kuril Islands. However, Russian and Japanese businesses still cooperate closely on a growing number of issues.
Abe is accompanied by the biggest-ever business delegation in the history of relations between the two countries: Over 120 Japanese executives hoping to expand cooperation with Russia in energy, medicine, and urban development and infrastructure in the Far East, where some Japanese companies are opening assembly installations.
The trade turnover between Russia and Japan in 2012 reached $32 billion, a 5.3-percent increase over 2011. In January and February of 2013, Russia-Japan trade turnover totaled $4.3 billion, a 6 percent increase over the same period in 2012.

Russia is Japan's 15th-biggest foreign trade partner, while Japan is Russia's eighth-biggest, Tass reported. Mineral resources account for over 80 percent of Russian exports to Japan. Japanese imports from Russia mainly consists of machinery, chemicals, equipment and transport. Overall Japanese investments into Russia have reached $11 billion.

Japan imports oil and gas from Russia's Sakhalin-1 and Sakhalin-2 projects, and is boosting energy cooperation in the production liquefied gas, building petrochemical enterprises and improving gas and transport infrastructure.

Currently, 270 Japanese companies operate in Russian markets.

Kuril Islands stumbling point
A decades-long dispute over the ownership of South Kuril Islands has prevented Moscow and Tokyo from signing a formal peace treaty for 67 years recognizing the cessation of hostilities following the end of World War II.
Tokyo has demanded that Moscow recognize Japan as the rightful owners of the South Kurils – the Kunashir, Shikotan, Iturup and Habomai Rocks. Moscow maintains that the USSR's annexation of these islands from Japan following World War II are non-negotiable.
"Russia believes that despite the complexity of the problem the dialogue should be aimed at finding the mutually acceptable solution and be held in a calm and respectful atmosphere," the Kremlin said ahead of the visit.