Putin says he will pardon jailed oil tycoon Khodorkovsky shortly
Vladimir Putin will sign a pardon for jailed ex-Yukos CEO Mikhail Khodorkovsky "in the nearest time," the Russian president announced following a large media conference in Moscow.
"He has spent over ten years in confinement – which is a serious term, I believe," Putin told journalists on Thursday after a four-hour Q&A session with national and foreign media.
In the pardon plea that Khodorkovsky "has written just recently," he referred to "humanitarian circumstances," the president said. "His mother is ill. And I think that a decision can be made and the decree on the pardon will be signed in the nearest time."
Under Russian law, convicts are entitled to seek a pardon, Putin said. However, Khodorkovsky did not do so until recently, when an appeal was finally submitted, he said.
The comment was made after the annual press-conference with over 1,300 journalists present. Just as the president was preparing to leave the conference hall, one of reporters asked him about Khodorkovsky.
Earlier in the press conference, Putin was asked about the possibility of a third criminal case being brought against the former Yukos CEO. The president said he did not want to comment as he had nothing to do with it. He added, though, that he saw no feasibility in a third case going forward.
Khodorkovsky's mother, Marina, told RT that she last spoke with her son "through a glass wall" back in August, when she came to see him in jail.
"So, we don't know about his reaction [to the news]," she said. "[Prisoners] are allowed to make phone calls once a week, on Saturdays. So, I can't learn about his response before Saturday."
She said Putin's decision came as a surprise to her.
"It was a bolt from the blue for me, because I was totally unaware about [the request for pardon]," Khodorkovskaya said. "I don't know if he asked for a pardon. I know absolutely nothing about that."
Answering RT's question about whether Putin's decision was partly linked to the state of her health, Marina said: "I would like to believe that he still has some humane feelings."
Pardon plea takes Khodorkovsky's lawyer by surprise
Meanwhile, Khodorkovsky's lawyer Vadim Klyuvgant told the RAPSI news agency that he "did not apply [for a pardon] and we have no information that anyone has applied on his behalf recently."
He added: "We don't have such information, even though pardon pleas have regularly been submitted by various persons" during all the years of Khodorkovsky's confinement. Later in the day, the legal team departed for an urgent meeting with their client.
Until the lawyers meet with @Khodorkovsky, all their previous statements regarding him asking for a pardon should be considered invalid.

— khodorkovsky (@khodorkovsky) December 19, 2013
Putin's press-secretary Dmitry Peskov, however, said the letter Putin has recently received was signed by Mikhail Khodorkovsky personally. By filing a request for a pardon, Khodorkovsky is admitting his guilt, Peskov also said.
"A petition for a pardon has been submitted to the president. If he asks for a pardon, it means he admits his guilt," Putin's press secretary declared.
Not everyone viewed the move as such. Pavel Krasheninnikov, chairman of State Duma's Legislation Committee, argues that admitting one's guilt is not a condition required by the law.
"The Constitution provides for a right to file a request for a pardon. There is no requirement for admitting guilt in this case," he told Interfax.
John McCain was also surprised by the news of a pardon for Khodorkovsky after a "decade of political imprisonment" which the US Senator believes has "become symbolic of Russia's culture of corruption, impunity, and injustice under President Putin."
Pavel Khodorkovsky, the son of the former oligarch, called it "very happy news" saying that he can't wait to see his dad. Michael McFaul, the US Ambassador to the Russia congratulated Pavel, in his twitter reply.
Congratulations Pavel RT@pmhburyatia@niktwick Very happy news. Waiting to speak with my father to learn more. http://t.co/KkRxKPJVCQ

— Michael McFaul (@McFaul) December 19, 2013
Germany's foreign minister, Frank-Walter Steinmeier, said Putin made a "good decision" and expressed hope that Khodorkovsky would "be free as soon as possible."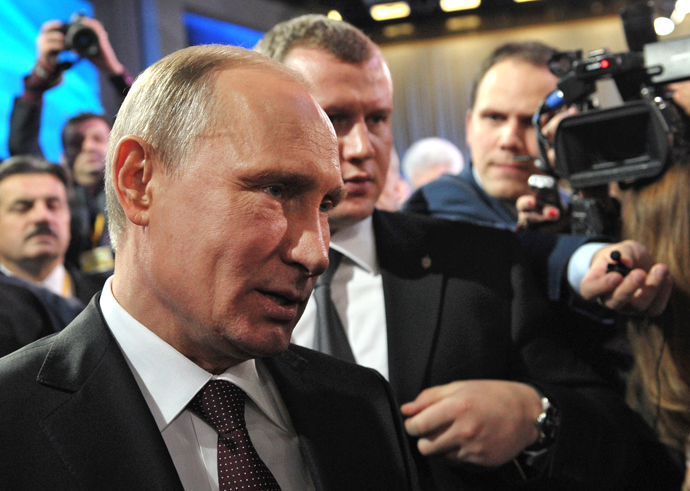 Formerly Russia's richest man and head of major oil firm Yukos, Khodorkovsky was arrested in 2003 and later sentenced to nine years in prison on embezzlement and tax evasion charges.
In 2010, Khodorkovsky's prison term was prolonged after he was found guilty of large-scale theft of oil and money laundering in a separate case. The former tycoon's 11-year jail term officially expires in August 2014.
Putin opponents believe that Khodorkovsky became the victim of a campaign to punish him for perceived political challenges to the incumbent president.
The news on the pardon prospects has immediately gone viral across the media, with rights activists particularly welcoming Putin's move.
"I'm really happy that this painful and tragic saga is nearing its end. I'm grateful to everyone who has contributed to that," Human Rights Ombudsman Vladimir Lukin told Interfax.
Pardoning Khodorkovsky may become a strategic decision, indicating new moods within theh society, believes Kirill Kabanov, the head of National anti-corruption committee and a member of the presidential Council on Human Rights.
The pardoning of Russia's most famous prisoner, as well as the earlier signed presidential amnesty that came into effect today, will improve the investment climate in the country, business representatives believe. The Russian stock market was lifted by the news.
You can share this story on social media: