Italian police arrest four suspected Islamists 'planning attacks in US, Israel'
Published time: 30 Apr, 2013 18:14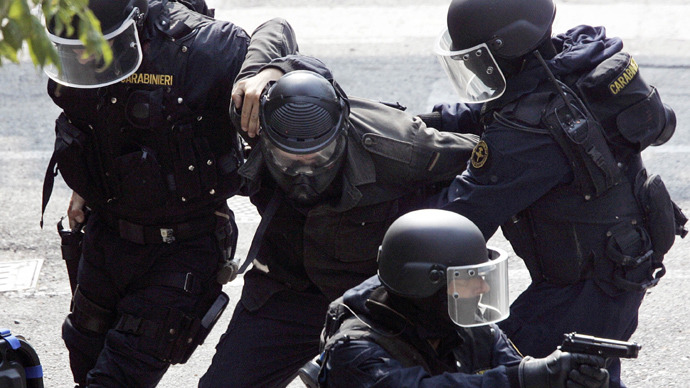 Italian police have arrested four men suspected of belonging to an Islamist militant cell believed to be planning terror attacks in the US, Israel and Italy. Two other suspects have reportedly fled the country.
The men allegedly sought to train militants in order to send them for operations abroad and have been accused of conspiracy to commit international terrorism and inciting racial hatred.

Hosni Hachemi Ben Hassen, the Tunisian leader of the cell- once an Imam at a mosque in the southern Italian city of Andria- was arrested in Belgium. Two more Tunisians were arrested in the Sicilian province of Catania, while another was arrested in Milan.

Police say they found jihadist training videos connected to the group, whose base of operations was Andria.

Italian police are still looking for two other men who are believed to have absconded to Tunisia. No international arrest warrant has been issued for the remaining two suspects.

Investigators believe the six men recruited among illegal immigrants in Italy, who were then sent to militant training camps in Afghanistan, Chechnya, Iraq and Yemen, Reuters reports.

In some cases the terror recruits were reportedly dispatched to Iraq where they went on to carry out attacks.

"Due to their important international contacts and to the kind of indoctrination they received, we're sure they would have been able to carry out an attack," Euro news cites Mario Parente, General Head of ROS, a special operations group that is part of Italy's carabinieri police force, as saying.

A police statement characterized the group by their "fierce anti-Semitism and anti-Western sentiment." No specific targets were revealed, though the group was said to be planning terrorist operations against governments, military forces, institutions and international organizations viewed as enemies in the context of a holy war.