​Backup ISS computer breaks down, requiring possible spacewalk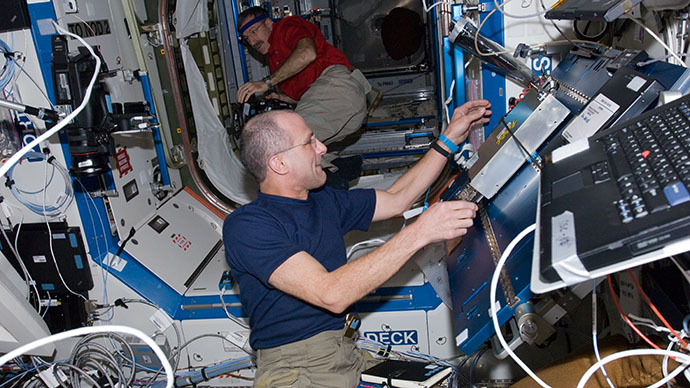 A reserve computer mounted on the International Space Station's hull has stopped working. As it will be needed as soon as Wednesday, when the station is to receive a cargo spacecraft, crewmembers may have to perform a spacewalk to replace it.
The Multiplexer-Demultiplexer (MDM) computers control certain robotics functions. The ISS's backup MDM computer stopped responding to commands, NASA reported Friday night.
The good news is that the main computer located inside the station is still fully operational. It means the ISS is continuing to function normally and only lost some redundancy provided by the computer.
There are no risks to the wellbeing of the six ISS crew members, three of whom are scheduled to return to Earth on May 14, including Russian cosmonaut Mikhail Tyurin.
The crew is currently working on bringing the computer back online. If that fails, their second option would require someone to suit up for a spacewalk to replace the device.
This should be done before Wednesday, when the Space X Dragon spacecraft is set to rendezvous with the space station for a cargo resupply. The backup MDM would be required for the docking process to provide a safety net for the robotics involved in attaching the spacecraft to the ISS.
The Space X Dragon will also bring cargo back to Earth, along with test results for certain scientific experiments the team undertook aboard the ISS.
As the crew was off duty Friday, they received a call from Russian President Vladimir Putin to congratulate them on a job well done and wish them a happy Cosmonauts Day. April 12 is the anniversary of the first human space flight by Russian Yuri Gagarin in 1961.