'Price tagging': Two Israeli teens charged with racist attack on Palestinians
Published time: 5 Nov, 2012 23:08
Edited time: 6 Nov, 2012 03:08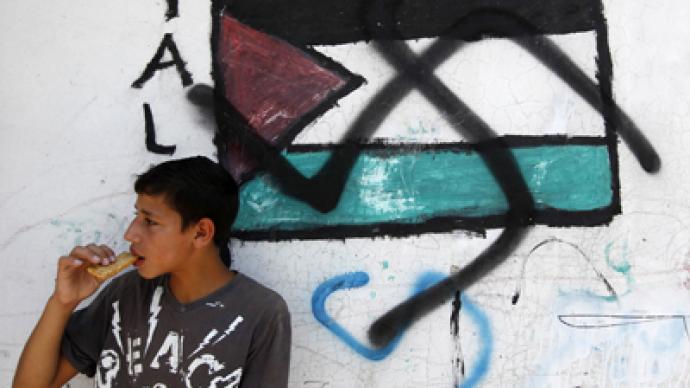 Two Israeli teenagers have been charged with inciting racism and vandalizing Palestinian property. Police say hate crimes involving Israeli youth targeting Palestinians are on the rise in the country.
­The two boys, arrested on October 21, are suspected of fixing a sign on a vehicle reading, "Revenge on the Arabs" and with puncturing the tires of two Palestinian-owned cars in East Jerusalem, in the West Bank, according to a police statement released on Monday.

One of the detained teenagers, whose identity has not been released, admitted to police that this is not his first such offence with signs reading "death to the Arabs" being graffitied on the walls of a Palestinian bakery.

The accused, aged 15 and 16, come from the Beitar Illit settlement and Jerusalem, a police spokeswoman told AFP.

The prosecutors decisions to charge the two young men came as Israeli police reported similar attacks on Sunday.

The incidents have been described as random acts of violence, aimed at the Palestinian population by fundamentalist Israeli's. The campaign includes attacks on Palestinian villages and property by Jewish extremists as alleged retaliation for terrorist attacks on Israeli targets.  The perpetrators also cited government demolition in West Bank settlements and limits on Israeli construction in the West Bank, as further reasons behind the acts.

The attacks on Sunday have been described as a "criminal incident with nationalistic motives" which "is being looked into by Jerusalem police."

The trashing of Palestinian owned vehicles also included written slogans of "Price Tag" and "Freedom for the Homeland", according to Israel Radio.

Over the past two years, only 23 indictments were filed out of 170 documented "price tag" attacks, with some involving arson of the Mosques.

In the past, the "price tag" policy has been openly condemned by the Israeli politicians. Prime Minister Binyamin Netanyahu has called the concept completely unacceptable, "People cannot take the law into their own hands, that is not their job," the Prime Minister was quoted as saying last year.

Non-governmental organizations have also on a number of occasions spoken out against the violence. "The price tag policy is a moral and tactical disaster," Dani Dayan, who heads the Council of Jewish Communities of Judea, Samaria and the Gaza Strip, told the Jerusalem Post adding, "it is in opposition to Jewish moral values and it damages the settlement enterprise."