Palestine ready to negotiate with Israel after UN vote – Abbas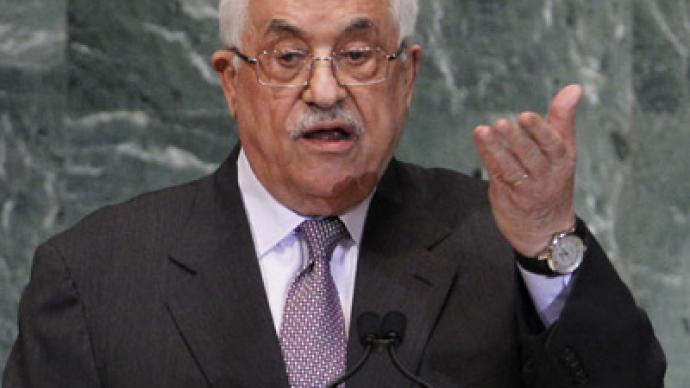 Palestinian President Mahmoud Abbas is showing readiness for renewed talks with Israel, granted the UN gives his country non-member state status. Abbas made no mention of Israel's illegal settlements on Palestinian territory.
A vote in the UN on Palestine's request for "nonmember state" status is expected in November.On behalf of Palestine, Abbas expressed "appreciation" for statements made in the European Declaration on the Middle East Peace Process, which were accepted in 2010."We will use them in the drafting of a Palestinian resolution, which will be presented to the General Assembly of the United Nations in order to obtain the status of a non-member state," he said while meeting EU diplomats in Ramallah Tuesday. "The statements of the European Union on our cause serve as the basis for a return to negotiations," he said. The Declaration, drafted in September 2010, reads, "the European Union strongly welcomes the launch of direct negotiations between Israel and the Palestinian Authority (PA)". The EU insisted that "negotiations on all final status issues should lead to a two-state solution" between "the State of Israel and an independent, democratic, contiguous and viable State of Palestine living side by side in peace and security."The EU, meanwhile, "continues to call for a complete stop to all violence, in particular rocket fire and terrorist attacks."Direct peace talks have been on hold since late September 2010, after Abbas announced he would not negotiate with Israel while it continued to build settlements on Palestinian territory under occupation.In 2011, Abbas abandoned the possibility of a productive settlement negotiation with Israel and switched his focus to mending the conflict with Hamas and winning United Nations recognition of a Palestinian state.Palestine submitted the formal request to the United Nations to upgrade its status in September 2011. It hopes the move will be a step towards being recognized as a sovereign country.This follows an unsuccessful bid last year by Palestine, when the UN Security Council failed to admit it as a full member state.Abbas' latest statements have been described in the mainstream press as the first occasion that the Palestinian president did not mention a halt to Israeli settlements in the West Bank, a demand he previously insisted on as a precondition to talks.