Israel revises children's arrest tactics, but violations continue – UNICEF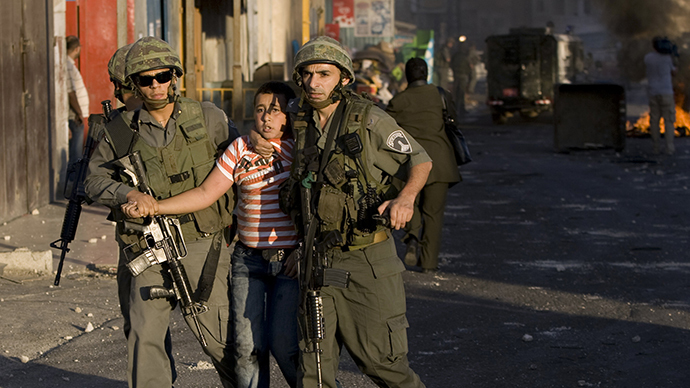 Israel's army is introducing reforms to how it arrests Palestinian children in the West Bank, the UN Children's Fund said. The move comes amid international criticism after revelations of widespread mistreatment of detained Palestinian children.
United Nations Children Fund (UNICEF) said in a statement that Israel was "taking steps" to address some of the problems outlined in a report released by the organization back in March. The report revealed that the Palestinian children detained by the Israeli military in the West Bank were "systematically" mistreated. 
Seven months after the report was released reports of violations are ongoing, reports UNICEF, despite the 38 recommendations issued along with the report that would help to bring the treatment of children in line with international standards.  
But, UNICEF noted that Israel had moved forward on the issue and is currently testing some of the newly reformed measures. The first measure deals with Israeli Defence Forces (IDF) issuing summons for children instead of making night arrests at home, "which can be traumatic for children and their siblings," UNICEF said. 
The other measure piloted has reduced the time a child can be detained before appearing in front of a military court for the first time. "The new order reduces the time from four days to 24 hours for children aged 12-13, and from four to two days for children aged 14-15. There is no change for children aged 16-17," UNICEF stated. 
Also, hearings for children are now held separately from adults. 
In its March report, UNICEF said that each year some 700 Palestinian children aged 12 to 17 – mainly boys – are arrested, interrogated and detained by the Israeli army, police and security agents. The rights organization found examples of practices it called "cruel and inhuman." 
According to the report, the ill-treatment often begins at arrest, when children are woken by heavily-armed soldiers and then forcibly brought to an interrogation center "tied and blindfolded, sleep-deprived and in a state of extreme fear."
The most common offense that children are arrested for is throwing stones at Israeli soldiers or Jewish settlers. In the majority of cases, the report pointed out, the principal evidence against the child is the child's own confession, "extracted under duress."
To get the children to confess, some interrogators threaten them with physical violence, death, "and sexual assault, against themselves or a family member."
You can share this story on social media: